Dimmed Star Power?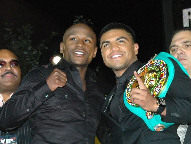 (Photo © German Villasenor)


There was even talk from Golden Boy CEO Richard Schaefer that this promotion could even break the ever elusive two-million buy mark (which is the boxing equivalent of batting .400). While it seemed daunting, it didn't seem all that far-fetched. After all, Mayweather, alongside Manny Pacquiao, is the rare fighter who can draw general interest in his events and his recent bouts have regularly averaged well over a million buys. Love him or hate him, you all watch him. You can't help yourself. But what's really going to push this event to the two-mil' plateau was that not only was it going to the promoted heavily, but this was a card that catered to those who enjoyed the sport at varying levels.

However, last Wednesday, a buzzkill of major proportions resulted when the announcement was made that due to a viral infection, Lucas Matthysse would pull out of his bout against Erik Morales. Perhaps this is overstating it but while the observer

who tunes into boxing maybe once or thrice a year (when either "Money" or the "Pac-Man" perform) didn't really care about this fight, the fan who watches the pay-per-view card beginning at 9 PM Eastern and doesn't take his eye of the screen was crestfallen over this development. While they had something interesting in the main event, the consensus is that Mayweather will easily dispose of Ortiz. That said, it was Morales-Matthysse (regardless of the WBC shenanigans) that had the intrigue. Specifically, Morales once again showed us all back in April- as he took Marcos Maidana to the brink- that he is must-watch TV. This time around, he was facing another young hard-hitting foe who you could make an argument for bring undefeated.
For those who were on the fence about purchasing Ortiz-Mayweather, this was the tie-breaker. As the news spread that this fight was no longer coming to fruition, the feedback on the news was clear. But what I also found out was that if you were going to purchase the high-def version of "Star Power," it was going to cost you around $70 ($59.95 plus $10 for the HD broadcast). I have to admit I had no clue that boxing pay-per-views had crossed this threshold. Being a guy who's lucky enough to either cover the events or get invited to others' homes for fight gatherings, I never paid attention to such details. Till last week, I had assumed that the major pay-per-views were still $50.
I asked someone in the pay-per-view industry how the price of a particular card was set. Here's the answer I received via email: "Promoter determines suggested retail price (and it is just that --- a

suggested

retail price), and satellite or telco or local cable system decides what retail price to charge. The actual contracts with distributors have them paying the greater of a minimum $ amount per buy or a certain % of what they charge the consumer. The satellite, telco or local cable system decides what to charge, but they pay us according to the aforementioned formula. So, for example, and I use rounded figures, if promoter says suggested retail price is $50, the deal with the distributor might say they the greater of $25 or 50% of retail price, then if they charged $50 we would collect $25 and if they charged $55 we would collect $52.50. Note: the actual deal with distributors is much more complicated than the simple example I gave you for illustration, they pay us a % of retail rate based on how much or little marketing they do, and that calculation gets compared to the minimum per buy and they pay whichever is greater."
OK, perhaps how your hard-earned money is divided by a group of corporations and millionaires isn't your concern. But what is, is the fact that it is your decision on how to spend it. On Thursday, I posed this question on Twitter (@stevemaxboxing): "So who's no longer purchasing 'Star Power' ppv card because Morales-Matty is now scratched from the show? #boxing"
These were some of the immediate responses I received:
@

LCD_Boxing

: "@stevemaxboxing

its only £15 here in the uk but i wont be paying for it now matthysse is off, unless maidana pays off petrov and steps in..."



:

"@stevemaxboxing

if Matthysse is out, and the PPV is 70 freaking bucks (didn't know that), I may very well save my money and watch OU-FSU"
:
"@stevemaxboxing

I'm still getting it BUT it about punched me in the gut as hard as Guerrero-Maidana did. Very disappointing."
:
"@stevemaxboxing

I'm not for sure yet, but Im finding less and less reasons to pay $70 for HD. It's more like "Slightly Cloudy Evening Power"
:
"@stevemaxboxing

for me its $0 now. Id have thought about it had Matthyse-Morales been on the card..."
"
@stevemaxboxing

Getting it but feel like a sucker. Like going to a Scarlett Johanssen movie you know sucks in hopes she takes her top off"
:
"@stevemaxboxing

u serious? 70 bucks dats too much these greedy promoters don't how bad the economy is? Freakin leeches"
"
@stevemaxboxing

that's just way to much $$$ I'll spend that money on my kids B4 I spend it on a Floyd I never said that maynever

#

ZAAAMM

"
"@stevemaxboxing

going to depend on who the replacement is. Actually want to see Gomez as well. Have to say, price is ridiculous.

#

boxing

"
"@stevemaxboxing

$70!! I think I'll buy myself a new pair of shoes"
"@stevemaxboxing

-that's it? 70$ that comes with a hand job right?"
These responses seem to be the consensus, although it has to be pointed out, first, there are plenty of Floyd fans who will buy his pay-per-views regardless of the price or foe. Secondly, I'd have to assume that anyone who follows me on Twitter is more than just a casual fan of the "Sweet science" and is the type that orders the majority of shows. They simply can't help themselves in the end most of the time. But if they are to be believed and they stay steadfast, it would be the rarest of pay-per-view undercard fight- one that actually moves the needle in terms of buys. Just keep this in mind; while I'm convinced "Star Power" will do well over a million purchases, not only was Morales-Matthyse a much anticipated contest, the main event of the night will be replayed a week later on HBO. I've stated before that pay-per-view cards that do over a million are those that cater to fans who don't really care about bouts like Morales-Matthysse. These folks may be unfazed in their decision making. It's the fan who is usually taken for granted by the promoters and cable operators who might be waffling.
What is interesting is that despite the strong promotional and marketing push for this event, if you look at various ticket brokering sites, sales for the MGM Grand portion of the card (where three-fourths of the pay-per-view bouts are taking place) are sluggish and the word is that the hotel is offering comped rooms for this upcoming weekend. The economy certainly plays a role in all this and while the pay-per-view option is a much cheaper alternative, it's not nearly as affordable as it once was.
Will the exclusion of Morales-Matthysse make it too costly for some?
OK, for those who aren't willing to shell out 70 bones for "Star Power" at home, you do have an alternative as Fathom Events (Fathomevents.com) in conjunction with Golden Boy is once again offering live closed-circuit showings of the broadcast in select movie theaters across the country.
So what type of experience is it? Well, here's an email from "Z," best known as the translator for Gabe Montoya on many of his interviews and stories. She went this route for last year's card that featured the rematch between Juan Manuel Marquez and Juan Diaz. (and yes, I kept this email for this long, looking for the appropriate moment to utilize it).
"So, I arrived at the movie theater right on time for the start of the PPV. There were 7 people, including me, when I got there. Two of those were a father with his kid, probably around 9 years old. Some people arrived later, but still, by the end of the second fight, we were 26 people.



It was too quiet for me. You are allowed to talk and cheer, but something about the movie theater setting, dark lights, the fact that you are, well, in the movies, made people behave as if they were actually watching any other movie. People were sparsely seated and talking softly, like you would do on a movie. It was not a community talking to all while watching boxing. That felt very strange to me, since I'm used to the loud cheering of fights in bars or home with friends. It was wonderful to have the humongous image in front of me. The sound was also much better than in bars. However, it felt like watching alone and the whole atmosphere made me be shy about being loud myself.

I left and moved to the bar right before the start of Jacobs vs Pirog. I like the bar atmosphere better. Sure, the sound was not as good so I could not hear the commentators so well (but that's not missing much), and the screen was not as huge. But people were the boxing fans I'm used to, cheering, drinking, eating, yelling, sharing his opinions of the fights and of fighters out loud with everybody else. Even the chaos turning sepulchral silence when Jacobs was sent to see Morpheus.

Don't get me wrong, I think having fights in movie theaters should continue to be done. I'm definitely not the audience for it. But seeing that father with his little kid is an illustration of the type of audience that benefit from it. He was whispering to his kid, explaining him the fights, while the kid whispered some questions back to his Dad. That, in my opinion, is what is good for. Bars are not good atmospheres for a father to bring his kid. The movie theater I bet was a great bonding experience for them. Plus the advertisement together with movie trailers is fantastic for the sport. But it isn't for loud fans looking for a more collective experience like me.



I wonder if LA will be different to VA in that regard... ''
One of these days, I will try this platform, especially if they ever go to a 3-D platform but one of the drawbacks for me would be the whole "no alcohol" rule. I mean, yeah, popcorn and Mr. Pibb are good with a movie but I need some 'Goose and soda with my fights. Also, during college football season, I need to get updates and have the ability to watch the games here and there.
Joe Cortez will ref Ortiz-Mayweather. Don't kill the messenger...Like everyone else, I don't know much about Pablo Cesar Cano, who has replaced Matthysse. He is undefeated in 23 bouts (with a mark of 22-0-1 and 17 KOs), has fought his whole career in Mexico and most importantly, he's rated 12th by the WBC, which was probably the most important thing for everyone involved...There are dueling press releases from Golden Boy/Alfredo Angulo and Vanes Martirosyan over why that fight isn't taking place. What's telling is that Top Rank had nothing to do with Martirosyan's...Folks, can we slow down on the pound-for-pound talk on Yuriorkis Gamboa? He's a gifted boxer with some tools but geez, what's he really accomplished to warrant such talk?...I'll say it again about the Klitschkos; the current versions of Vitali (who dominated the game Tomasz Adamek in Poland over the weekend) and Wladimir are a tough match-up for anyone who has fought them. And yes, I know this era is weak but then take away the '70s and most heavyweight eras are a bit lacking...For the record, I'm going to the Staples Center portion of "Star Power" next weekend...Is Denard Robinson of Michigan the biggest "Fighting Irish" killer since Anthony Davis of USC? The ending of the Michigan-Notre Dame game was the most thrilling ending to a sporting event I've seen since Diego Corrales vs. Jose Luis Castillo I...Auburn is the Arturo Gatti of college football...How long before "JoePa" just sits on his couch at home and coach Penn State from there?...If the Colts have the number one pick next year (and the way they looked without #18, they just might be on the clock), do they select Stanford QB Andrew Luck?...Cam Newton sure looked good, didn't he? And he might only be scratching the surface of his ability...Kansas City Chiefs, welcome back to reality
…I can be reached at k9kim@yahoo.com and I tweet at www.twitter.com/stevemaxboxing. We also have a Facebook fan page at www.facebook.com/MaxBoxing.