David Lemieux and Trainer Russ Anber Speak on the Past and Future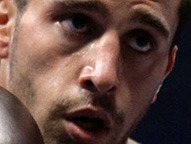 David Lemieux


On April 8, 2011 at what is essentially his home canvas at the Bell Centre in Montreal, Canada, middleweight contender David Lemieux, 25-1 (24), had the table set to move into the upper echelon of the middleweight division. In an elimination bout to determine the number one contender to the WBC middleweight title, Lemieux was set to face rugged Mexican veteran Marco Antonio Rubio, 51-5-1 (44). Rubio had three stoppage losses but had not lost in six bouts since his last title bid against Kelly Pavlik in 2009. At 22, Lemieux was the younger, fresher, faster, and seemingly more powerful fighter, having stopped all but one opponent coming into the contest. At home in front of his fans, it seemed almost preordained that the popular Canadian fighter would win and move on to face the champ.
But as is sometimes the case in boxing, the unexpected happened. Lemieux was handed his first loss when Rubio stopped in him seven rounds.
Now, some four months later, Lemieux, who has been rebuilding in the gym and examining the mistakes that led to this defeat, has taken an interesting step. With his trainer, Russ Anber, and his management team, Lemieux has come down to Oxnard, CA to work with middleweight champion Sergio Martinez at his gym. The goal? To discover what it is to train and live as a champion.

I spoke this past weekend with Lemieux and Anber from ringside in Las Vegas as they were in town to see the Abner Mares vs. Joseph Agbeko bantamweight championship fight.
"Sergio opened his doors to us and we are very happy to be here," said Lemieux. "He trains like an animal. He's amazing. That's what my team and I wanted to check out, how a fighter at that level trains and what it takes to be at that level, so we came with the pound-for-pound top number two [fighter]. We can't get better experience than this. We have done a lot of work together and it's been great."
While Lemieux loves to fight, he is a young man of 22. Fighting and training properly are two different things. There is so much to learn beyond just how to throw a punch. Habits out of the ring can play more of a part in winning than inside of it.
"I am so happy we came to the camp," said Anber. "In my 32 years in boxing, I have been around world champions and great fighters and been to great training camps. This is a highlight of my career. It was important that David see the elite level and the premiere guy. We're fortunate, not only one of the premiere guys in his weight class but one of the premiere guys in the sport, so this is great for David, who is so young. He is only 22. He is so young, he needs to be exposed to this."
Every division has a top ten but not every top ten fighter makes that last step to greatness. For Anber, learning what that last bit of effort is all about is why they came to Southern California.
"Absolutely. What the difference is is when you get into that last five percent," said Anber. "It's easy to say, 'Oh, you're in the top ten,' but you don't really realize what the difference is between ten and one. It's massive."
I asked Lemieux his thoughts on the Rubio fight and he was straightforward. For a young person, making mistakes is a part of life. Understanding them is what separates those who go on to be successful and those who hold on to that failed moment and toil in obscurity. Lemieux appears to grasp what went wrong.
"I watched it and broke it down. In the beginning, I was disappointed but now, I am starting to understand it," said Lemieux. "I am starting to understand a lot of the mistakes that I made, a lot of the little things that I said, 'Aw, it doesn't matter,' but at that level, it all catches up to you. All the little mistakes, it all catches up to you. They become big mistakes. All those little things we are fixing to never make a mistake again in the ring."
For Anber, the problem is not with Lemieux's skills but his habits between fights. When you look at greats like Bernard Hopkins or the work ethic of a current top fighter like Martinez, Floyd Mayweather or Manny Pacquiao, their habits between fights ultimately separate them from the rest of the pack.
When I asked Anber if the difference in the Rubio fight was the veteran's relaxation, he told me, "No, the problem wasn't that. The problem was [David] didn't think he needed to train more. He thought, 'OK, I am going to go out there and hit this guy on the chin at some point in the first five rounds. I'm going to beat him. There is no way he is going to withstand it.' So he trained two months for the fight. He fought December 3 and took two full months off before starting to train for the Rubio fight and there was no way I was able to get him back in the gym. In his mind, he didn't need it. Two months was going to be enough. No problem. He did not step into a gym until the seventh

of February. That is unacceptable but he's young. 'OK, that's what you want to do. There you go,' and this was the end result."
For five-and-a-half rounds, Lemieux lived up to his promise. Lemieux seemingly had his way in the early going, rocking Rubio with hard right hands and body shots. However, as the fight progressed, Lemieux tired and suddenly, in the sixth round, Rubio unleashed a right hand that badly rocked Lemieux. In dire straits for the first time, Lemieux tried to recover in the seventh to no avail. Rubio, who had played defensively all night, went on the attack and forced Lemieux's trainer to stop the contest before the frame was over.
"I knew I hurt him in the beginning of the fight," recalled Lemieux. "A lot of the time, I hurt him to the body but then when a guy of that level and experience knows that you are a puncher and that you can hurt him, he starts defending himself and started to play smart. I thought I was going to take him out but he played his cards right and he survived and then I ran out of juice. I've got no excuse. He got the better of me. I didn't train accordingly to it and after I had no gas in the tank and it got worse. Unfortunately, I didn't come well prepared for that fight. I didn't come well prepared mentally and physically."
Early on in the first round, Lemieux landed a hard right hand and went all out on the attack but Rubio's quicksand trap was already set. I asked Lemieux if this was a case of being overexcited and thinking he was doing better than he was.
"Very excited young guy, exactly," said Lemieux. "He played it smart. He came in there taking shots, checked out the scene, blah, blah, blah. Me, I was excited. I thought I was going to take him out. Every round that went by, I thought, 'OK, I am going to take him out this round.' Then I started thinking, 'Sh*t, I better take him out this round because if it goes later, I might lose some more gas.' I had been using a lot of energy and he's been playing it safe. I better take him out fast or I might be in trouble.' So I didn't play it smart and that's what happened. It happens. I'll never go back in the ring and have that happen. That's 100 percent for sure."
When you look at Lemieux, he seems to have everything necessary to build a successful fighter, not just in the ring but as a draw who can cross over to worldwide fame. He's blessed not only with knockout power and an aggressive streak but a wise-cracking sense of humor and rugged good looks. As a fighter, he has all the punches and the willingness to use them. That said, Lemieux's still 22. At that age, skill is not enough. It takes time to build a fighter and at just 26 fights, Anber feels that perhaps his charge was rushed to this moment on the big stage.
"My major concern with David is not his physical attributes, not his skills, because I think he proved that he dominated the number one contender in the world for five-and-a-half rounds," said Anber. "Let's say he hit the guy and the ref would have stopped the fight, people would have said that, 'Rubio shouldn't have been in the fight. He was no match.' So my major thing with David is that he needs to understand what it is to be a true professional and that was my whole concern when the promoters started moving David in that road and telling him, 'We've got an elimination fight.' I didn't want an elimination fight. I didn't want a top ten ranking. He's too young. I know what it takes to be at that level. Our whole plan when David turned pro, which I had told everybody, was to take our time. I told everybody and I could do it with David because he is so young; he can afford to have a lot of fights and move him along. What's the rush? So what if he had 40 professional fights before making a move? Who cares?"
"It's more mental than physical. Its 80 percent mental, 20 percent physical," said Lemieux. "I go into the ring in good shape. I train hard. I train according to what I have to fight but the last fight I underestimated. I thought he was going to go out. I didn't play it smart. Next time, I will be mentally prepared. That's why we are getting all this experience before we go back in the ring. When we get back in the ring, I will be a strong, solid 160-pound middleweight that is ready to fight anybody at any level for 12 rounds physically and mentally. I don't want any more mistakes. This sport, you can't afford mistakes. One mistake cannot only cost you your career but also cost you your life."
On that note, I asked Anber about the stoppage. Lemieux was hurt but he is also a puncher. Some criticized Anber for stopping the fight when he did as Lemieux, being a young man, might have gotten

a

second wind or landed a lucky, homerun punch. Anber's answer was simple.
"Anybody who disagrees with the stoppage, Gabriel, has no clue what boxing's about nor the development of a fighter or bringing a fighter up," said Anber. "He's 22 years old. He's a baby."
"Why let him get knocked out cold?" I asked rhetorically.
"For what?" he replied. "He's goes out cold, you might end up ending a career."
One question in working with Martinez is what happens if Lemieux rebuilds and gets to a point where he is ready to fight him? Martinez is in his late 30s and looking for big fights. The probability that these two fighters from separate generations essentially, actually getting in the ring for money is probably not very high. So giving away what might be secrets of training on both sides seems to be a non-issue. Martinez, a veteran fighter who was stopped in his 18th

fight, is teaching a young man who is now in the same boat, now realizing that losing is part of the game. How you respond is part of becoming a success.
"That's right. He doesn't want us. He's looking for the big fights and we certainly don't want him," said Anber. "The idea is to learn. Throwing him off the deep end is not the way to do it. I needed to expose him to let him know, 'This is the best guy in your weight class, bar none, and one of the best in the world at all weight classes. Learn from this, not just the skill level. I don't expect David is ever going to box like Martinez but he can learn how to have the work ethic of Martinez."
"The boxing world is a very fascinating world," said Lemieux. "I am not looking for that. We are here training with him. In the ring, it's business. Right now, we are just training. In the future, if we have to fight, we are professionals. We are going to go at it but right now, I am not looking for that. A lot of fighters train together. Saul Alvarez and Gennady Golovkin are training together [in Big Bear]. It's a funny business. So I might as well take the experience."
I asked Lemieux what it was like watching Martinez work.
"Sergio is an amazing fighter," said Lemieux. "He is very agile. He moves very good. He's an older guy but he started boxing late but he is an amazing athlete. He trains very hard. I never trained like that in my life. Just starting his camp and I am learning a lot of things. It's a great experience. He is a very different type of fighter, a very high caliber of fighter. Intelligent, pound-for-pound guy. You can see it. He is a world champion, very good character, very alive, very out there. He is a very cool guy in the gym, always cracking jokes, and he's a happy guy. He trains very well. When you are happy, you train a lot better, you know? Instead of coming to the gym miserable, he comes to the gym happy. That's why he is the fighter he is."
In the immediate future, the plan is for Lemieux to return to the ring in December against an opponent to be named later. December can't come soon enough for the fighter.
"I can't wait to get back in the ring, back in my office," said Lemieux. "I can't wait to be a world champion. I want to do it and I want to do it properly and I want to stay there for a long time."
However, Anber is adamant about following through on this process of maturing his fighter and strengthening his commitment in and out of the ring. While the fighter can't wait to get back in there, the trainer is in no rush at all.
"We're looking at December but again, right now that is what our target is and David has to continue showing that he is making the progress," said Anber. "If I don't feel he is making that progress and understands exactly what we are trying to do, I will delay it again. I'm not doing it until he is ready and focused and understands what it is to commit, not just to the two hours in the gym but everything outside of it.
"So right now, the key is David needs to change his outlook on what it takes to be a top-notch professional fighter who wants to vie for a world title," continued Anber. "For us, it's more mental. He'll learn the skills. Hell, even if he doesn't learn a single new skill in the next eight years, just by repeating what he does now, he will get better. Wisdom and maturity is going to make him better but the mental thing is the key."
When that key clicks in the door of maturity, Lemieux will look to erase the memory of April 8, 2011, a night when he came too close, too soon, to realizing his championship dreams.
"Aw, sh*t, it hurts. It hurts so much because I was so close yet so far away," said Lemieux. "Next time, there will be no more flaws. It will be to the top, straight to the top and do it properly."
You can email Gabriel at maxgmontoya@gmail.com, follow him on Twitter at

www.twitter.com/gabriel_montoya

and catch him on each Monday's episode of "The Next Round" with Steve Kim. You can also tune in to hear him and co-host David Duenez live on the BlogTalk radio show

Leave-It-In-The-Ring.com

, Thursdays at 5-8 PM PST. Gabriel is a full member of the Boxing Writers Association of America.