Carl Frampton: "I want to be a world champion- as simple as that."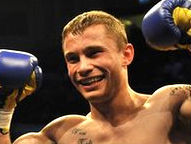 Carl Frampton


Originally, the plan was for Carl "The Jackal" Frampton to fight for the European super bantamweight crown against reigning champion Kiko Martinez on Saturday night. However, last week, Martinez's father had taken ill back in Spain, having his leg amputated and leaving his son with little alternative but to pull out of the fight and leave his training base to see his stricken father. Not wanting to waste the six weeks Frampton's had in camp, working himself into incredible shape, including trimming his body fat to an incredible three percent and engaging in 146 rounds of high-class sparring, team Frampton ploughed on. Eventually, after much hard work, promoter Matchroom Sport recruited Mark Quon to face their man for the vacant Commonwealth 122-pound title. It's been a meteoric rise for the 24-year-old from Belfast, Northern Ireland. It's only been two years since Frampton was plucked from the amateurs by former world champion Barry McGuigan. Since then, McGuigan has shrewdly mapped out his young charge's career. In the amateurs, Frampton was highly decorated and won the Irish National title twice, along with a silver at the European Union Championships. However, the pull from McGuigan proved too much and Frampton made the leap to the pros, where he now sports an impressive 10-0 (6) record. If Frampton can claim the Commonwealth title, it will give further credence to many who believe he has the potential to fulfill his undoubted potential of one day becoming a world champion.


Anson Wainwright - Over the past week, things have changed for you. You'll no longer be facing Kiko Martinez for the European super bantamweight title. Can you tell us about the change? Also, you have a new opponent now, Mark Quon, 11-3-1 (2), who you'll be facing for the vacant Commonwealth title.
Carl Frampton - First of all, Kiko Martinez pulled out due to his father being ill and I'd like to pass my respects first and foremost to Kiko and his family. But it was hard; there was a lot of work that had to go on to make another title fight happen. A lot of people were working relentlessly day and night behind the scenes, Barry McGuigan, John Wish from Matchroom and all the other guys from Matchroom. So I was happy we got a title fight and I'm boxing an Australian called Mark Quon, the Australian super bantamweight champion, for the Commonwealth title. So I'm disappointed that the European title wasn't on the line a while back but I'm over the moon that I'll fight for- in my eyes- a good title in the Commonwealth.
AW
-
Could you tell us a little about your fighting style?
CF - I describe myself as a "box" fighter. Middle distance is where I like to be. I can fight in close if I have to. I'm short; a lot of people would think of me being an aggressive brawler but I had a good amateur record and when it comes to it, I can box on the back foot. If it comes to it, I prefer it. I'm not just a one-trick pony. I can punch a bit; I'm aggressive when I have to be but I can also go on the back foot if push comes to shove.

AW - Could you tell us about your team? Who's your manager, trainer and promoter? Also, where do you regularly train?
CF - I'm managed by Barry McGuigan. Obviously, everyone knows who Barry is. He's a legend of world boxing. A Hall-of-Famer, he's really looking after me. His son, Shane McGuigan, is involved in the coaching. Also back home in Belfast, I have Gerry Storey Snr. and Jnr. looking after me. I have a strength-and-conditioning guy and that's my team. Sorry, Barry's son, Jake McGuigan, is involved with the management side of things. It's quite a number there but it's all good. I get to travel about a bit for a good spar but it's all good. Well, Barry is actually a manager and promoter. I've actually topped bills in Belfast at the famous Ulster Hall. At the minute, we're working very closely with Matchroom Sport. Eddie Hearn has made a lot of great signing and making a lot of noise in British boxing at the minute, so we have a good relationship with them guys and we're looking to do a lot with them in the future.
I'm from Belfast. I'm a Belfast boy. I train out of Holy Family Gym where Gerry Storey Snr. and Jnr. are. Sparring in Belfast and Ireland, there's a hole. It is not great to be honest. There's better opportunities for me to spar in mainland Britain. That's why I go over to Barry's house before a fight for six weeks. He looks after me and feeds me. His son, Shane, looks after the training side as well. I'm usually based in Belfast but when I have to get down to hard graft, I set my camps up in England.
AW - You mentioned you had travelled around and sparred. Could you tell us who some of your sparring partners are?
CF – Well, I'm sworn to secrecy on sparring for this camp but I can tell you people I've sparred with in previous fights. We've got John Simpson, Choi Tseveenpurev, Jason Booth, Ian Napa, Mickey Coveney, just to name a few. I've been in with some of the top guys in Britain and Ireland and that's what's really bringing me on.
AW -
Could you tell how you met Barry McGuigan and a little about the relationship the two of you share?
CF – Well, Barry's an Irishman. He heard a lot about me. I had a good amateur career. Apparently, he liked what he saw of me as an amateur and once I won the Irish Senior title in 2009, he was on the phone and said he'd be interested in looking after me as a professional if I wished to go pro. It was a hard decision for me 'cause I'd dreamed of boxing at the Olympics as a boy. I'd also dreamed about being a professional world champion. I just thought that it was the right time to turn pro. There were a few big boys in British boxing sniffing around but I thought Barry was the right guy to go with and so far, it's proven that he is. He's a good man and he's looking after me and after only 11 fights, I'll be fighting for a European title.

AW -
Could you tell us about your younger days growing up? Did you have the typically tough upbringing boxers do and the path it took you toward boxing?
CF - Well, I started boxing when I was seven. I had my first fight at seven years of age. At the local gym, it was only a few minutes walk from my house; it was right on the doorstep. I took to it. I loved it and never really looked back. I had probably 150 amateur fights and probably lost about 20, so I was quite a good amateur and I boxed for Ireland and at quite a high level. Then I turned pro in 2009 and had ten fights, ten wins, six knockouts. Barry hasn't matched me easy, which is what I want. He's matched me with guys who are quite tough, which is what has helped me improve. That's my story and hopefully, I can continue winning on September 10.
I won two Irish Senior titles. I won Multi-National tournaments. I won a European Union Senior silver medal. One of the last medals I won was when I went to Turkey and won that, four fights in four days, against some of the top boys in the world. It's probably the toughest Multi-Nations in the world; I won that. There's probably a few others.
AW - How come you never fought at the World Championships in 2009?
CF - I was Irish Senior champion in 2009. I was ranked the number one featherweight in Ireland, so chances are I would have been going to the World Championships in 2009 but then the offer came in from Barry. I had to think about it but in the end, it was the best offer and I didn't want to turn over too late in life. I wanted to give it a good go. I'm just a perfect age. I had amateur experience and now was the time to turn over. I think it turned out well.
AW -
There are some interesting fights domestically for you: Rendall
Munroe,
who's been European champion and fought for a world title. Scott
Booth
has been around the scene winning British
and

Commonwealth titles and Scott Quigg,
who's like you, a guy on his way up. What are your thoughts on fights with those guys?
CF – They're all good guys. Booth is a good guy; he's helped me out with sparring but I don't want to be critical of the guy. He's had a good career, maybe on the slide a wee bit now. Rendall Munroe is a world contender. He's up there with the best. He lost to the Japanese guy [Toshiaki Nishioki] in a world title fight. He's been European champion. He'd be a tough fight and Scott Quigg as well. People are raving about in mainland Britain. That's a fight I'd be very interested in the future. Once I win the European championship, these guys will want my belt. They'll have to get in a queue but I'd be well up for them fights.
AW -
Could you tell us a little about your life away from boxing? What are your interests and hobbies?
CF – Well, I have a fiancée, Christine, and a daughter, Carla, who's only eight months, so when I'm out of training, I don't get much time to do anything else. I like to spend time with them. I used to play a bit of football but I had to pack that in because of picking up injuries. Spend time with my family…it might sound a bit boring but that's what I like to do.
AW -
What goals do you have in boxing?
CF - I want to be a world champion- as simple as that. I wouldn't have turned pro if I didn't think I could make it to the top. If I'd thought European or British level was my limit, I'd have stayed and tried to go to the Olympic Games. I want to be a world champion and I know it's going to be hard. It's going to be tough but I think it's achievable if I keep putting the graft in and doing what I'm doing.
AW -
What fighters growing up did you like to watch? Who do you like to watch today?
CF - My boxing hero was Wayne McCullough. Being a Belfast man, he was always involved in great fights. He went anywhere; he'd fight anyone. He fought some of the top guys around. He was always in good fights. He was so fit; he lived the life. He was a dedicated athlete. I've read his book and some of his training he used to do was just unbelievable. I don't know him. He's from Northern Ireland. I have caught him on Twitter. He supports me and wants me to do well but I don't know him personally.
My favourite fighter is [Manny] Pacquiao. He's unbelievable what he's done, going up through the weights. He's so fast and explosive. He's always in good fights. The guy's like McCullough, dedicated, and you have to respect him for that.
AW -
On the 10th of September, the Odyssey will be rocking supporting two hometown guys, you and Paul McCloskey. Do you have a message for the fans that'll be there to support you?
CF - I'd just like to say thanks a lot to those who bought tickets and are coming along to the fight. It's going to be the biggest night of boxing in Belfast in many years. It's probably going to be the best as well. It's an exciting card. I aim to put on a show for the people who have spent their hard-earned money on tickets.