Bouie Fisher Bids Us Farewell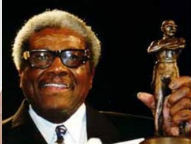 --


English "Bouie" Fisher, was born on June 1st, 1928 and passed away on June 30th, 2011. In between, he lived a life that was both fulfilling and accomplished. Best known for being the longtime trainer of Bernard Hopkins, he also found contentment in being a husband, brother, father, grandfather and mentor. In short, Fisher was a man of dignity and honor in a sport that often lacks both. 83 damn good years on this Earth without many regrets.

"Ah, man, that's what makes it so easy," said one of his eight children, James, who spoke to Maxboxing

on Thursday night

from

Philadelphia

after his father's passing earlier in the day. "I just left the hospital and my father's laying there in his state for like five hours we were in the room. There was a little crying but it was easy to let him go because of the fact he lived a content life. He's from a small town in

South Carolina

, came to Philadelphia as a kid, His mother died when he was young, four brothers and he obtained the unthinkable. He came to the

inner city

with nothing to one of the most beloved and known persons in the world; people knew him for all over the world.

"So yes, he lived a content life, he was happy. He went down swinging. He wouldn't let anyone throw in the towel, the doctors, nobody. It wasn't a TKO; it was a knockout. He wouldn't go down, man. He was a strong man. It was a beautiful thing."

Fisher, long before gaining acclaim as what his son called a "professor of pugilism", was the bedrock of his family.

"My father raised five girls and three boys; I'm the youngest of the eight," said James, whose siblings include Andre, Bernadette, Bernard, Cecilia, Josephine, Valerie and Victoria, along with 15 grandchildren, "and all of us went to Catholic school. All of us went to some form of college; he preached education. In the 1950s, when it was unheard of, we had a piano in the house. All of us played instruments. He was a music guy; he loved jazz. My sister played and taught piano. My father, he did a lot of great things in the inner city. We grew up in the heart of

North Philadelphia

, one of the toughest in

Philly

, but we never fell prey to our surroundings because of the strength of our father."
Before he hit it big in this boxing racket, the family business was an auto shop, Good Deal Transmissions. For years, Fisher, who counted the likes of Jack

Blackburn

and Quenzell McCall as his influences, was like countless other trainers who toiled for years in gyms without much fanfare and fortune, while teaching the manly art of self defense. It was the love of the craft that fueled him. Then in 1989, a young man with a record of 0-1, fresh out of

Graterford
State Penitentiary, came into Fisher's and his family's lives.
That guy was the boisterous Hopkins, who eventually became an all-time great middleweight and a transcendent figure within the sport. From a piece of rough, raw, black coal, Fisher polished Hopkins into a sparkling 24-karat diamond. The two couldn't have been more different. Hopkins was loud, brash and opinionated, prone to piss people off with his iconoclastic ways. Fisher was an understated sage, with wisdom that you could just touch and feel. If Yoda were a boxing trainer, he would've been just like Fisher. The union reached its apex when on the night of September 29th, 2001, Hopkins handed Felix

Trinidad

his first professional defeat in front of a stunned throng of Puerto Ricans at the

Madison Square Garden

to consolidate the middleweight division. It wasn't only Hopkins that arrived that night; the quiet dignified man in his corner had seen a lifetime of work suddenly get recognized by the entire world.

Fisher was awarded the Eddie Futch-John F.X. Condon Award from the BWAA for being the trainer of the year. In many ways, it was a lifetime achievement award. He had worked with other boxers before and after but his legacy will always be defined by Hopkins.

His son says, "Let me tell you something; for me not to acknowledge that would really be assassinating my father's achievements. Bernard Hopkins is, if not the best, one of the best middleweights that ever put on gloves and also, he's one of the best trained fighters who ever put on gloves because the things my father taught him enabled him to fight these younger guys at the age of 46 and still dominate these guys because he was taught old-school boxing. He was taught defensive fighting and he was taught a lot of things that he's utilizing now. He can fight till he's 50; these new fighters are not in his caliber. Guys like James Toney, Bernard, who were taught by old-school teachers, defense, slipping and rolling. They don't rely on athletic ability such as Roy Jones, when that athletic ability is gone and you slow down, you get caught."
By the end of 2005, Hopkins and Fisher were no more. They had a well-publicized split over- what else, money- and Fisher was another casualty of Hopkins' parsimonious ways. There were bitter feelings of betrayal on both sides. But they say that time heals all wounds and his son says of their relationship with Hopkins that "Things were mended. It was never a thing of hatred towards Bernard and I'm quite sure there was never hatred towards us from Bernard. I ran into Bernard a couple of weeks ago; we had a long talk, talked about my dad, my dad's sickness. I brought him to the hospital; he saw my dad, the state my dad was in, unconscious, eyes closed. He opened his eyes; he saw me and then he saw Bernard.

Bernard's

eyes got the size of two saucers; it was like excitement. His mouth opened up; he smiled. And Bernard started shadowboxing and my dad couldn't even move like, prior to that all week. He lifted his head above the pillow and looked at Bernard's feet to see if they were in the right position as he was throwing his punches.
"He nodded his head and smiled, like, 'You're doing alright; thanks, son' without verbally stating that because he couldn't talk. We just stayed there; we came to talk for a long time and his eyes stayed opened the whole time he was there. After we left, the next day, his eyes were back closed and for the days after that, it just led to the day where he passed away."

When asked if it was bittersweet for the man who helped construct this fighting machine to watch him continue building his Hall-of-Fame credentials without Fisher in his corner, the son answered, "My father watched him on television; it was a sense of pride. See, my father's a great man; he raised us to be spiritual. I believe that things were meant to be." James, who served as an advisor to Hopkins during the time his father trained him, said throughout the last several years, he still rooted for him despite the acrimony."See, because if I was to hate because I wasn't with him, my relationship with him would've been based on money. Our relationship was as brothers. Like I was with Bernard Hopkins before he was 'The Executioner'; he didn't have a nickname. That's how long I go back with him. So it was never about money, as far as, 'I hate this guy' because we had a difference of opinion about money. So my thing is, that was all in the past and I had no problems watching him."

On behalf of his father, Fisher has one request for the man who gave of himself to his family, his community and the sport he loved so dearly.

"I pray that the boxing community will rally to get my father elected into the boxing Hall-of-Fame. It'll be posthumously but I think that's important because he accomplished something. Not only did he take a fighter from 0-1 to become one of the greatest fighters in the world, there's other fighter who didn't make it [who] he has touched. Like I'm getting phone calls from people crying on the phone, crying more than I am. He touched them personally coming out of the

Philadelphia

gyms. In the

inner city

, in the African-American community, there's not too many fathers in the households. So you come to the gyms of Philadelphia, there's men there and my father was one of those men who embraced these kids, who are now grown men and was like their surrogate father.

"He was their dad."

MEMORIES

One of the most memorable weekends of my life was back in

October of 2001

during the

World Boxing Hall of Fame

ceremonies in

Los Angeles

, where both Hopkins and Fisher were honored, having Heineken's deep into the night (Bouie loved his Heinekens and I loved them right along with him) where we were part of a small crew that talked boxing late into the night at the hotel bar. What I can recall of that evening was great fun- I think.

Then the next day, I was invited to go up with Hopkins and his team to visit the home of Jim Brown.

Those are the moments I will cherish most with Fisher and his family.

MAXBOXING RADIO

Here is the most recent edition of "MaxBoxing Radio," co-hosted by Corey Erdman and Yours Truly, that can be heard live

every Thursday night at 9 PM

, ET on "The Score" on SIRIUS 158:
http://radio.thescore.com/episodes/july-1-klitschko-haye-preview



WEEKEND FLURRIES

Golden Boy Promotions CEO Richard Schaefer clarified for me that Gary Russell Jr. will open up the July 23rd HBO card in

Las Vegas

supporting Zab Judah-Amir Khan and not on the August 27th show featuring Robert Guerrero-Marcos Maidana...Junior middleweight contender Vanes Martirosyan told me

on Friday

at the Wild Card that there were discussions about him facing Sergiy Dzinziruk in the fall. But then I was told that he may be in line to face Deandre Latimore in an IBF eliminator. I think that's a good fight... Remember, the bout between Wlad Klitschko and David Haye can be seen live on HBO at 4:45 PM ET/1:45 PM, PT...Fox Deportes has the bout between WBA flyweight beltholder Hernan Marquez and Edrin Dapudong later that night. As always with "Top Rank Live," check your local listings...So Maria Shriver filed for divorce? I guess she won't be "BAAAAACH"...Ok, folks, have a safe 4th of July weekend and pour some out for Genaro Hernandez, Nick Charles and Ol' Bouie. These were real boxing guys who will be missed...I can be reached at k9kim@yahoo.com and I tweet at www.twitter.com/stevemaxboxing. We also have a Facebook fan page at www.facebook.com/MaxBoxing.