Book Review: I Fought Them All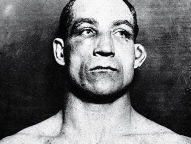 Tom Sharkey as seen on book cover: "I Fought Them All"


Often times, the greatest boxing stories are not about the fighters who achieved their goals and became world champions but those who tried just as hard and came up a little short. Yes, Lennox Lewis is considered a great heavyweight champion but did he ever survive a shipwreck? Gene Tunney was an erudite champion who quoted William Shakespeare so I don't see him getting on the bad side of Wild West gunman Wyatt Earp. "Sailor" Tom Sharkey never became the World Heavyweight Champion, mostly because it was much harder in his time when there was only one recognized title. Greg Lewis' book is perfectly titled I Fought Them All, imbuing what made Sharkey a heavyweight of historical significance. No, Sharkey never held the World Heavyweight Title but he certainly led a life many champions would envy.

If Tom Sharkey were not real, it would take the imagination of a Charles Dickens to conjure him up. Before reading this book, I would have said F. Scott Fitzgerald or John Steinbeck, since I had been under the false assumption Sharkey was born in America because of his service in the US Navy. That is not the case and this biography provides great narration, tracing Sharkey's lineage from the docks of Dundalk, Ireland to the heart of New York City where he would gain worldwide fame. The tome could have earned the byline 'A man and his times' as atmospheric descriptions and attention to detail vividly bring the era to life with personas like Wyatt Earp and King Edward VII making appearances. Those who enjoy Victorian era-themed prose of a writer like Anne Perry will be duly rewarded as hardcore pugilistic fans will be by opinions of Boxing Hall of Fame inductee Nat Fleischer and many other revered boxing observers.

A quick history on the subject: Tom Sharkey is the son of James Sharkey, a signalman for the Great Northern Railway Company, and Margaret Kelly. Instead of following his father on the rails that led inland, Tom headed quayside working the docks in his early teens before sailing the world (England, South Africa, India, China, Australia, California, the Caribbean, and even the Arctic seas) and ultimately enlisting in the US Navy at age 19. By this time, Sharkey already had the famous battleship tattoo across his chest, endured shipwrecks, and engaged in fistic encounters aboard vessels that rivaled future ring exploits for action, surpassing them in brutality. Sharkey went on to gain fame and fortune in the ring, labeled a "Ring Immortal" by the New York Times, fighting the first four heavyweight champions under the Marquis of Queensberry rules. At age 31, Sharkey left the ring (with the equivalent of 10 million dollars today) for what should have been a life of leisure.


However, life threw many curveballs to Sharkey before, during, and after his ring career, which co-authors Greg Lewis and Moira Sharkey adroitly detail.
Yes, Moira's last name is Sharkey and Moira is also married to co-author Greg Lewis, making this a familial project. Blood ties are what sparked the book, which took years of painstaking research and insight to complete for the duo. Lewis told the Dundalk Democrat, "[Moira] is distantly related to Tom and had read a lot about him over the years but there was no biography on him so we thought it would be interesting to do one," adding, "It wasn't easy though. It took three years of research and it was difficult to get information on him because there was very little about his private life when he was younger because he had left Ireland very long ago and that meant we had to get a lot of help in America." To their credit, the team makes use of a multitude of quotes and references many articles without letting them tell the story alone. The pair supplements quotes with an understanding of local history, the era's social mores, and well-earned intuition.
Readers of Maxboxing will be most interested in Tom Sharkey's bouts with fistic legends John L. Sullivan, Jim Corbett, Bob Fitzsimmons, Jim Jeffries, or lesser known but equally dangerous Joe Choynski, Gus Ruhlin, Kid McCoy, and Peter Maher. All are given proper coverage. In fact, an entire chapter is dedicated to Sharkey's second fight with Jim Jeffries (Ninety-nine Minutes of Hell), a classic that became one of the earliest filmed heavyweight title fights in 1899. The authors did well selecting Sharkey's most important battles, tough picks since Sharkey stopped 34 of 37 victims, and scaling down the compelling but less historically relevant. At the epicenter of Sharkey's ring career is an astounding 50-year rivalry with Jim Jeffries, which morphed into a friendship outside the ring much like that of the late Arturo Gatti and Micky Ward in recent times. It started after their 25-round world title fight at Coney Island and lasted until the men died weeks apart in 1953. Upon hearing about Jeffries' death, Sharkey stated, with classic Irish wit and irony, "Well, I finally beat him."
The initial impression the physical book presents is fantastic. A solid spine, tight page binding, sturdy hardcover, quality bright white paper, attractive cover, and 23 pictures that flesh out and provide a proper visualization of the subject. I mention this because in the last decade, with the proliferation of self-published or other mass publication paperbacks, some books give the first impression of amateurishness and are unfairly cheapened by the "quality" of production. I asked the author about this, "Although we set up our own publisher, we have experience of working with publishers. We used a designer from a publishing house and a printer too so we tried not to cut back on quality." This book does not suffer any bad initial biases; on the contrary, it emits quality from the first opening crack of the hardcover until its final satisfying closing.
I am not alone in my admiration of this book, with The Ring magazine's Pete Ehrmann and Tracy Callis adding to the chorus of praise. Ehrmann calls the book, "Hugely entertaining and exquisitely researched. Revelations about Sharkey's private life are eye-popping." Ehrmann ended his review succinctly with, "It's a great contribution to ring history." Callis, an influential International Boxing Research Organization member and widely respected voice inside boxing history circles, is effusive in his praise. "Whether one is a boxing historian interested in great detail or a casual follower of the sport, the book is a must-read about one of the ring's top old warriors. A fighter of the Tom Sharkey caliber should have a book written about him. Greg Lewis and Moira Sharkey have done a splendid job." The book has also received positive reviews in Irish periodicals and has been praised on various boxing websites.
Especially appreciated by myself is the extensive bibliography (the first I have seen to include websites) and the index of people and places that follows is indispensable for boxing historians. While not necessary for the casual reader, the bibliography and index assures this volume finds a place as an essential addition to any respectable library on early 20th century boxing. These are small things as a whole but are valued and often overlooked by works of lesser quality. There are also 18 pages of author notes which give further insight into Sharkey and the writing process of the authors. Lewis boils his work down to, "It's the story of fighters, trainers, promoters, gamblers, and police officers. Of winning a fortune in the ring, and losing it outside, and of friendships forged by knuckle and glove." In all, there are 336 pages of standard typeface to devour. I Fought Them All has earned a spot on my top shelf of heavyweight biographies.
Anyone interested in purchasing I Fought Them All is advised to visit the website established to make it easy to purchase the book in both the United Kingdom and America, http://tomsharkey.blogspot.com/.