Bernard Hopkins Set to Meet His Obligation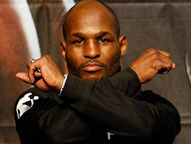 Bernard Hopkins


It's been almost six years and nine fights since Bernard Hopkins had a contractual obligation to face a fighter not of his choosing. That fight was the rematch with Jermain Taylor who unseated him from his legendary middleweight perch in

July of 2005

. That time, it was Hopkins who was able to enforce a fight he wanted. Following his disputed draw with Jean Pascal in December of last year, Hopkins got a second shot at the WBC light heavyweight belt he now carries because WBC President-for-Life Jose Sulaiman ordered it.

This Saturday

in Los Angeles'

Staples Center

live on HBO, Hopkins will be facing an opponent he has not only declined to fight for three years but serves as the first in six years he had no choice but to face.
"We trapped into the fight because we had the first options [to face Pascal following his draw with Hopkins]," Dawson's promoter Gary Shaw told Maxboxing.com

on Monday

during

Dawson's media workout. "We could have stopped the second Pascal fight and the only way that we would allow Hopkins to fight Pascal was that we had to be the next fight and HBO had to agree not to put him on anymore if he didn't fight Dawson. And the WBC had to agree to strip him."

"No one dreams of facing Chad Dawson," "Bad" Chad's trainer, "Iceman" John Scully, told me and my co-host David Duenez on

Leave-it-in-the-Ring.com

radio show.
And that is true. At 6'1", this converted southpaw with solid combinations, excellent agility, good speed and a penchant for boxing rather than brawling is not what you call "Opponent Delight." Add in an even keel, never-rattled mentality and Dawson is a 29-year-old puzzle the 46-year-old Hopkins clearly did not want to bother solving.
But Hopkins wanted that Pascal rematch in order to make his stamp as the oldest champion in boxing history and he got it. Now it's time to pay the boxing piper.
"It could be a technical fight and it could be a non-technical fight but I think it all depends on the person," Hopkins told the assembled media on a recent conference call. "And if the person is coming to fight, then that would help me a whole lot. So it all depends. I mean, a fight happens and it changes as the fight goes- and you never know- but I know what I'm coming here to do. I'm coming in to make the fight and it takes two to dance. It takes two to fight."
Maybe Dawson doing anything is going to be the challenge. While Hopkins is a master boxer, he is 46 years old. Granted, he is the rare exception in that as he has aged, he appears to have gotten better. But will Hopkins fare better than he did against the limited Kelly Pavlik at 170 pounds or a Winky Wright who was on in years and fighting at about 10 pounds past his best weight class? Will he be enough to handle Dawson, who is much more a prime and complete fighter than those men when Hopkins faced them?
"At the end of the day, I think it's who wants it better, who has the better IQ and I believe I do and will win this fight October 15,"

said Hopkins. "It won't be easy because the young guy wants to prove that it's time for his chance. It's his second chance to prove that he's worthy of what everybody expects of him two years ago. He failed in that case. So now he has another shot at it and he's going to put it all on the line and I'm expecting that. I trained under those circumstances, knowing that he's coming with all guns blazing. I've got to be ready to have mine blazing also. It's going to be a shootout."
Surely, Dawson has faced his fair share of tough assignments. One of them, his first fight with Glen Johnson, may not have earned a passing grade despite a unanimous decision win. However, even facing the rough-and-tumble Johnson cannot prepare any fighter for what a master of dirty infighting Bernard Hopkins is. He can come at you with a lunging right, followed by a headbutt and maybe an elbow at any given moment, sometimes in combination. Dawson's camp feels prepared as they can be for that eventuality while Hopkins was a bit more philosophical about his tactics.
"I don't know, a dirty fighter. I've been called worse names than that," said Hopkins. "I feel that I'm a fighter that builds a legacy off of winning and showing my craft from A to Z. And you don't get mentioned or even get in the Hall of Fame for being a dirty fighter. You get in the Hall of Fame and get your credentials by doing things that are either historic or very unique in wins and losses. So when [Dawson] says [I'm] a dirty fighter, to me, he sounds like he's already complaining about something and we haven't even thrown a punch yet. Again, that's the difference between being a veteran and a difference between being not necessarily a rookie but inexperienced to the point where you watch what you say and understand when you say things, you've got to have a reason to say it. So he's trying to put it out there to people that I'm a dirty fighter so maybe you can look for something that might look dirty."
For the record, in speaking to Dawson on Monday, while I questioned Chad about it, he never outright said Hopkins was a dirty fighter. It was a point of emphasis inevitable when interviewing a Hopkins opponent. Still, Hopkins used the perceived slight by Dawson as fuel and perhaps a window into the enigmatic psyche of his opponent.
"I believe that I'm a fighter going there to win and I don't have to fight dirty to win," said Hopkins. "And I've been getting hit in the back of the head in the last couple of fights, starting from the Roy Jones fight because I guess the word got out that must be a sweet spot. But you don't hear me [complaining] about what happens to me because I realize when you're in that ring, the referee says it in the dressing room and he says it in the squared circle, "Protect yourself at all times." I know what that means. I've been hearing that for 23-plus years in boxing, so don't get sidetracked.
"Watch the performance," continued the loquacious Hopkins.

"Watch the ageless warrior systematically break a young, strong, tall light heavyweight that everybody had high hopes of two years ago. And now they're reserving that because they're not sure because

Bernard

Hopkins

is fighting him. They don't understand and they don't want to risk

Bernard

Hopkins

making them look like a bad...what they call a predictor. So, I understand that. That's part of respect when they act like that. So Chad Dawson said I'm dirty. All fights are dirty to me. Some are dirtier than others, so whatever he thinks I can do, he has the capabilities, if he wants to do it back. But the referee's in the ring, 'the third man' they call him that will oversee anything that he does or I do. I'm coming to win a fight and I don't have to be dirty to win a fight but I'm in the fight. And when you're in the fight, things happen he might say is an accident. Things happen I might say is an accident. It's up to the referee. The public will believe and see what they see and I leave it like that. I don't complain."
Perceived slights and mind games with verbal jousting to spare are what Hopkins' has been all about for years. It fuels him. He needs to know he is mentally dominating a fighter before he gets to physically do it. However, in Dawson, not only does Hopkins have a physical specimen who will be hard to deal with, he has a man who admittedly has been quiet all his life. He is a man who Hopkins has just not seemed to get a verbal or mental foothold on. On Monday, Dawson was relaxed, friendly, and even made a few subtle jokes unlike like the frenetic Pascal who flipped out while attempting to get Hopkins to take drug tests beyond the norm required by a Canadian boxing commission. Still, Hopkins has dug in. For him, this fight is about experience which, in his opinion, will win him this fight. Not youth, speed, power or any other thing beyond his control. Experience.
"My résumé speaks for itself if I'm going to apply for this particular job. I can say what I say. I can wear the best suit but at the end of the day, you're going to look at my résumé," explained Hopkins. "And I'm not going to bore you with all the names and numbers and Hall of Famers that I did beat and some that I lost to. You're going to see a fight where the youth wants to take the lion that's in the jungle and retire him. I'm just not ready to go, leave the jungle. And when you have that stand-off, sit back and enjoy at home or if you're at the

Staples Center

, watching HBO Pay-Per-View, you're going to see something that's been taught to me."
Beyond the mental games, Hopkins sees an admittedly tough match-up in front of him. Even when he is convincing you he will win, Hopkins does display a healthy respect for his foe, key to him that is surely why he has been a winner for so long.
"First of all, I feel it's a tougher fight because [Dawson]'s big enough to take more punishment than the guys that I fought. What I mean by that is you know the bigger-than-the-next guy or the styles, the southpaw position, whether I fought 13 of them, 12-1, and some will argue that the other one was a split decision with Joe Calzaghe," said Hopkins. "From one to 10, I would give Chad Dawson a seven and I also would give him an extra bonus point or two. Why, is because every fighter that I can remember when I became champion until now, when you fight

Bernard

Hopkins,

they normally step up their game a notch or two. You know, nobody comes, that I know of, went to ring in the last ten years and not be prepared to fight

Bernard

Hopkins

. They come with their A-plus game. In most cases, it still wasn't enough but that's what keeps me on my game. That keeps me on my point."
Every fighter has an off night. Some fighters look their age, all of sudden. The last time this appeared the case with Hopkins was in the long overdue 2010 rematch with Roy Jones Jr. While Hopkins did not concede that point, one thing he did admit might be a sign of his aging is that he has not stopped a man inside the distance since Oscar De La Hoya seven years ago.
"I think that's what I become old at," said Hopkins. "I think getting people out has been a struggle because I haven't really thought about actually getting anybody out. I've thought about how can I actually just like overwhelm, beat somebody out, show technical skills and if they go they go; if they don't, they don't. I've never been really a knockout puncher. I'm a guy that destroys people and I don't...I say that the way I said it but I don't say it as in braggadocios. I say it because, I mean, I guess I'd probably would've saved a lot of careers that've been saved if I'd have just knocked them out. But I was told that the way I punch and how accurate that I punch- and I can punch- but punch enough to really take fights from guys in the future because I sort of wear them down physically. And they never-most of them, I mean- there is evidence out there. It's not like I'm just saying this in a way of making me look big.
"Unfortunately, that's part of the risk when you fight

Bernard

Hopkins

is that when you go out and look for a knockout, you normally don't get it," Hopkins continued, "but I can get you out of there if the opportunity presents itself. But in the same token is that if you're betting that I'll knock somebody out, then you probably won't win your bet. But if I see a guy wobble, if I see a guy looking like he's ready to go, I'm going to come right out and try to end the fight if I can get him out of there because I get paid the same if I knock a guy out in the sixth round or if I knock him out in the 12th round. So I'm not trying to do extra rounds just because."
Saturday is a lot of things. It's a chance for Hopkins to extend his record as both WBC light heavyweight and oldest champion ever in the sport. It's also a moment of public redemption and a step into stardom for Chad Dawson. What Hopkins hopes for beyond the win is to add yet another award to his trophy case.
"I put a plead out earlier in this promotion that if Chad Dawson comes with the talk, then we have a chance to be a candidate since the year's closing out for 'Fighter of the Year.' I want to be 'Fighter of the Year,'" he said. "One of the oldest if not the oldest fighter to ever win that title of 'Fighter of the Year,' being a busy year for me, at least the last two years-the end of 2010 and 2011- and now we're at October 15th

of 2011."
What's left is

Saturday night

and whether or not Hopkins can push his oldest champ streak further or simply become an old champ. If Hopkins wanted it any other way, that certainly will remain a mystery.
You can email Gabriel at

maxgmontoya@gmail.com

, follow him on Twitter at

www.twitter.com/gabriel_montoya

and catch him on each Monday's episode of "The Next Round" with Steve Kim. You can also tune in to hear him and co-host David Duenez live on the BlogTalk radio show

Leave-It-In-The-Ring.com

, Thursdays at 5-8 PM PST. Gabriel is a full member of the Boxing Writers Association of America.