Benavidez, Jr continues his journey to contender status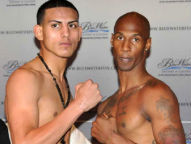 (Photo © German Villasenor)


When you look at the stats of Top Rank Promotions junior welterweight prospect Jose Benavidez, Jr, it is easy to be impressed with him on paper. The 19 year old right handed fighter from Panorama City, California who lives in Arizona and trains out of the Wild Card Boxing Club in Hollywood, CA has future champion written all over his resume. 120-5 record. Youngest Golden Gloves champion at age 16. 11 time National Champion. Junior Olympian and now one of the hottest prospects in the sport of boxing.

To believe that this resume will actually lead to a belt around his waist is to see him train at the Wild Card or see him fight. Relaxed and poised beyond his years, Benavidez still has a lot of work to do on his game but it's clear from watching him work with fighters like Amir Khan, Manny Pacquiao and Mercito Gesta in the gym is to see a young man who has found his rightful place in the world. Trained by his father Jose, Sr with the learned eye of Freddie Roach offering advice and the matchmaking brilliance of Brad Goodman and Bruce Trampler, Benavidez is poised to become the next possible crossover star in the Top Rank stable. Saturday night at the Bluewater Casino in Parker, Arizona, Benavidez will take on late replacement Dedrick Bell, on Fox's Top Rank Live series alongside fellow prospect Mercito Gesta in a showcase card.

"I've been training him since he was six years old," said "When they are that young you never imagine. He would say 'Dad, dad I'm going to be a champion." You kind of hype them but you know it's really hard. You tell him 'Yeah, you can do whatever you want in life if you work hard. I don't see why not.' But to be honest I never thought he would be big. I try and support him as much as I can. I never thought it would be this soon. 24, 25 maybe but not this soon. He was 14 or 15 when he started growing. When he was 14 is when he started sparring Yory Boy Campas and another fighter from Chicago."

For Jose, Jr. walking into a boxing gym and experiencing its trappings was all he need to see and feel to know he had found his life's calling.

"I actually started boxing because I was hyper and would give my mom and dad headaches," said Jose, Jr. "So one day my dad took me to the gym and ever since I put the gloves on I fell in love with the sport. I was about six years old."

In the beginning, Jose Jr. and Sr. simply enjoyed training together and sharing time building their father-son bond. But soon their time in the sport became something much more. As they say, winning changing everything.

"Like anyone I tried to get my kid into something you like you know?," Jose Benavidez, Sr. told Maxboxing.com this past week of his son's beginnings in the sport. "I tried him at other sports but he wasn't really good at any of them. Boxing was something that clicked. Something he liked. It was a good way to spend time with him. His first fight he won. Second one he won and third one and he started kept winning, winning, winning. He was really motivated to work just a little bit harder because he didn't want to lose. It just became really like a job, kind of."

With 12 wins, no losses and 10 knockouts, Benavidez is just getting going. His identity is barely forming and as such, when I asked him what he loves about boxing most he could not explain it completely.

"I just love the adrenaline. I just can't explain it. The adrenaline rush I guess. I don't know. It's something else. I can't explain it," Jr said.

Benavidez started fast as a pro fighting nine fights in 2010. As a break, he left the Wild Card and headed back to Arizona to regroup for 2011. But right now, the epicenter of boxing can be found in Southern California so before too long, the Jose Benavidez headed back to Hollywood and the best sparring money can't buy.

"There is nothing but the best sparring at Wild Card," said Sr. "We've been sparring Sugar Shane Mosley, Mercito and also Ray Beltran and now Paulie Malignaggi. It's just the map to the top I think. It's just the best sparring."

For a fighter still finding himself, seeing how high the elite bar is and what it looks like at full fruition is an invaluable physical example that few fighters get to witness.

"Just getting the chance to get to work with Amir Khan and Manny Pacquiao, all these great fighters it lets me see how world champions work," said Benavidez, Jr. "Just being around them motivates me to work hard. I want to be like them someday and even better. You have to put your 110% in there."

An added benefit is having Freddie Roach in the room watching his son, evaluating him and offering words of advice.

"I have a lot of respect for Freddie. He is the best trainer in the world if not one of the best," said Sr. "His gym is one of the best in the world. I used to be his assistant for a while, for over a year with top fighters. The environment is unbelievable."

I first came upon Benavidez, Jr. in his first sparring session with Amir Khan. I was struck by how relaxed he was with Khan, allowing himself to be physical in tying Khan up or moving him to the ropes and letting his punches go.

"Ever since I can remember, I was a boxer that wouldn't throw stupid shots," said Jr. "I like to pick my shots. Ever since I was 13, 14, I was working with pros. I was kind of used to it. When I was 14, I was working with Yory Boy Campas and a couple other pros over there in Arizona. I got the experience and I just feel comfortable."

At times, Benavidez, Jr. appears to be a better fighter in the gym than in the ring. While he has had his early blowout wins, he has also allowed fighters to get in too close to range and thus make fights a little rougher than a 140 lb, 5"11" fighter needs to. Part of this process of learning to master the ring is natural and comes from the transition from over 100 amateur fights into the professional ranks.

"Amateur and pro are two way different games," said Jr. "Amateur is more of a fast pace and pro is more of a pick your shots. What I learned in the pros is it's no joke. If you lose a fight, it's all downhill. In the amateurs it's a learning process. In the pro it's a whole different process. You train twice, three times as hard as in the amateurs. You have to learn to pick your shots more and sit down on your shots. I've done a lot of work and like my dad said, we are working on the jab a lot. The jab to me is the key to everything. If you don't have a good jab it's really not worth it. You open up body shots and right hands. The jab to me is the most important punch."

A tall junior welter, Benavidez is a fighter who likes to work at long range but is not afraid to get inside. He appears to love to work to the body and mixes up his attack nicely. While a clear identity has not emerged, parts that eventually become a whole have revealed themselves. Benavides spoke a little of where those pieces come from.

"My favorite fighters . . . a lot of people don't like him but I like Prince Naseem, Mayweather, Sugar Ray Leonard, Chavez. I have quite a few of them," Jr. explained. "I try to watch . . . because every boxer has a different style. No boxer is going to fight the same. I just try to watch the best boxers. I think they are the best. The best thing to do I think is to learn things from them. Chavez had the body shot, which I love a lot. Mayweather is slick. He has that good defense. Oscar had a good jab. Fast. They all just have different styles. I just try to take a little from each boxer and learn."

I can see where the tools from most of those boxers are beginning to show but Hamed seemed an odd choice for a well-spoken but far from cocky fighter.

"I just like him because he's awkward," jr. clarified. "You didn't know from where the punches were coming. I was just watching tape of him. I probably watched the tape more than 300 times. You just didn't know where it was coming from. I just like that fact. I mean, he did talk a lot of trash but he backed it up."

We got to talking Hamed's loss to Barrera which was a one-sided testament to the benefits of technique and a disciplined work ethic.

"That was a good fight," Jose, Jr. said. "Honestly I think Hamed should have won that fight if he trained. I think he took Barrera a little too light. I guess you get what you have coming to if you don't train hard. No matter whom you are going to fight. If the guy has no losses to 20 losses, they still always have two hands you always have to watch out. The worst fighter can make you look worse."

As we wrapped up, I asked Jr. why he decided to sign with Top Rank. An amateur like him surely had his choice of promoters. For him, it's all about being built into a complete fighter from the ring to the amount of seats he can fill.

"I had a choice of signing with Top Rank or Golden Boy," he explained. "But I chose Top Rank because they were the ones that made Oscar De La Hoya. If it wasn't for them I don't think there wouldn't be an Oscar De La Hoya. So they just have a lot of experience in the game. They have a lot of champions from the ground up. So far I am happy with the decision. So far they have done a great job and hopefully I will keep working with them."

Now comes Saturday night and for him, hopefully yet another win. With his scheduled opponent dropping out this week, he will have to fly blind against Hernandez. But with the team behind him, the future, not to mention the fight, look bright for him.

"He needs to work on everything right now," said Senior. "He's so young. What I really like about him is the jab, the hooks to the body. But he has a lot to learn and is learning a lot. We just have to work a little bit on everything. But right now as a base in terms of defense and everything I am pretty satisfied. He will get better as he gets a little more seasoned."
You can email Gabriel at maxgmontoya@gmail.com, follow him on Twitter at www.twitter.com/gabriel_montoya and catch him on each Monday's episode of "The Next Round" with Steve Kim or tune into hear him live on Thursdays at 5-8 PM PST when he co-hosts the BlogTalk radio show Leave-It-In-The-Ring.com. Gabriel is a full member of the Boxing Writers Association of America.