Beltran at War at Woodland Hills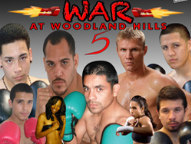 War at Woodland Hills


Lightweight Ray Beltran makes his return to the Warner Center Marriott tonight, where he headlines "War at Woodland Hills 5." The last time we saw him, Beltran took on the undefeated Sharif Bogere in May in a nationally-televised card "ShoBox" main event from Primm, Nevada. In a fight many believed he had done enough to win in against Bogere- who was the "house" fighter that night for Golden Boy Promotions- Beltran lost a disputed decision.


Months after this defeat, you can still hear and feel the disappointment in his voice.
"I mean, it was a really big low blow. I've been hoping to get big fights, name fights and finally, I get a good chance and good opportunity. I believe I did everything necessary to win the fight. I even knocked him down and, man, it really, really upset me big time. It really took me time to feel alright," he said a few days ago, while sitting down on the ring apron at the Wild Card Boxing Club after his workout.

Beltran admits he's still not completely over this loss. "When you lose a fight [legitimately], you get over it easier," he explained, "but when somebody takes away something from you because they can, it's hard. It takes time. Even at this point, dealing with that, it's hard."
The knockdown that Beltran refers to was not called by referee Robert Byrd, a pivotal judgment because Beltran ended up losing by the score of 96-94 on two of the judges' cards. As the final bell sounded at the end of ten, you got the sense it was a tight contest but Beltran, for all intents and purposes, was the visiting team in this scenario. Not only is Bogere handled by Golden Boy but he trains in Las Vegas.
"I believe I won the fight but I also was not surprised at all. I tell my people, 'Y' know what, man? I don't think we're going to get this decision.' Even the referee was like, acting funny. He didn't even count the knockdown, stuff like that and he didn't even make [Bogere] fight. The guy wasn't even boxing me; he was running away from me. I wasn't surprised they robbed me," said Beltran, whose record dropped to 24-5 (16) with the bitter defeat.
Being the pro he is, Beltran was back in the gym within a couple of weeks.
"But only with my heart because my mind was like...a lot of bullsh*t, man. A lot of stress, I really got depressed," he admitted. This loss had some rather severe ramifications and there was added insult to injury." I mean, I was going to get a title shot with [IBF titlist] Miguel Vazquez. I even bet on myself. I bet a $1,000 on that fight and they took my money away. They took my victory and they took my title shot. It sucks, man."
So now, Beltran goes back on the club scene, back to the venue where he captured the vacant USBA lightweight title in March by halting Carlos Vinan in seven. He's scheduled to face Darien Ford. It's like Beltran's starting over to a certain degree.

"Kinda, ya know, but hey, at least I'm fighting," he said. "They've promised me fights and I've had pullouts and pullouts and pullouts. At least now, I'm keeping busy. I'm staying on the radar. It's better than not doing anything."

BUZZKILL

In what is a pretty major buzzkill, Lucas Matthysse, who was scheduled to face Erik Morales on the "Star Power" pay-per-view card on September 17th, has pulled out of the fight due to a virus (at least that's what I was told. There seems to be conflicting stories). So now, the hunt is on for a replacement for "El Terrible." It's a shame, though; that was one of the few pay-per-view undercard fights that the fans were truly looking forward to. Golden Boy made an inquiry to see if Marcos Maidana, who has a fight scheduled on September 23rd, would pinch-hit at the MGM Grand in Las Vegas but Maidana chose to go through with his bout in Argentina. The gut feeling here is that Morales will end up facing Anthony Crolla, who was originally slated to face Morales on this card and ultimately slotted on the undercard as consolation.

It looks like Vanes Martirosyan has passed on the opportunity to face Alfredo Angulo on November 5th in Cancun, Mexico as the main event on HBO's "Boxing After Dark." The word is that if James Kirkland can gain legal clearance to leave the country, he might get the assignment to face "Perro" next. Also, Humberto Soto might open the broadcast.

FRIDAY FLURRIES

Showtime will air two editions of "Fight Camp 360" on Oct. 8th and the 22nd leading up to the finals of the "Super Six"...The card at the Warner Center Marriott opens its doors at 7 PM with the first bout scheduled ("scheduled" being the key word) at 7:30...For more information, log on to bashboxing.com...Demetrius Andrade headlines a card on Sept. 21st in Manchester, NH. He'll be jibitty-jabitty-jab-jab-jabbing all night, I assume...Is the Big 12 about to go the way of the Dodo bird?...Manager Gary Gittelsohn told me that the goal is to pair WBO flyweight beltholder Brian Viloria with Giovani Segura on Dec. 10th in Manila...Anyone else getting the feeling that we won't be seeing Peyton Manning in 2011? I feel bad for anyone that has Reggie Wayne on his fantasy team...Can't wait to see the newest installment of "America's Game" on the 2010 Green Bay Packers on the NFL Network. This is always a first-class production...My Super Bowl prediction is the Packers vs. Patriots
…I can be reached at k9kim@yahoo.com and I tweet at www.twitter.com/stevemaxboxing. We also have a Facebook fan page at www.facebook.com/MaxBoxing.