"Bam Bam" Rios: Is He Gatti 3.0?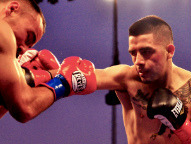 (Photo © German Villasenor)


While there was a stick-up taking place in

Atlantic City

that would've made Nucky Thompson blush (more on that later), Brandon

Rios

successfully defended his WBA lightweight title in thrilling fashion by banging out the game-yet-overpowered Urbano Antillon in three entertaining heats at the Home Depot Center in

Carson, California

. "Bam Bam" is clearly stamping himself as not only one of the premiere lightweights in the sport but must-see TV in the vein of the late Arturo "Thunder" Gatti.


The first round was a back-and-forth affair that had the partisans on their feet. But by the middle of the second frame, it was clear that Rios was simply too strong, too hard-punching and precise for Antillon, whose heart and determination could not overcome the years of wear and tear he has accumulated.
Rios, who brings a Fernando Vargas-like bravado into the ring, was just being himself.

"I told everybody what I was going to do," he told the gathered media at the post-fight presser. "I was going to knock him out and I came and knocked him out. Antillon was a helluva fighter one time- but not this time. I'm young; I'm more hungry, more powerful. So I'm going to the top and I see my career rising from here, from now on. So anybody out there at 135, I'm inviting you right now. At 135, everybody, you don't have to look for a champion. You don't have to look for a fight. I'm right here standing. If not, 140 here I come."
With Juan Manuel Marquez facing Manny Pacquiao at a catchweight of 144 in November and Robert Guerrero moving up to junior welterweight to take on Marcos Maidana, Rios is clearly the best lightweight on the planet until Jorge Linares gets his act together. Beyond that, he is the type of fighter that boxing needs. Yeah, you can have all your skilled showmen who talk of "hit and not getting hit," who dance on the outside like Fred Astaire, take almost no risk and claim that it's the art of boxing but individuals like Rios inspire a certain passion among the fans while creating new ones.
His cache will never be predicated on an unbeaten record (Rios is currently 28-0-1 with 21 knockouts) or some mythical pound-for-pound status; Rios' appeal will be very simple- every time you see him perform, he will do his damndest to give you a night to remember. You will never feel cheated or want your money back. Don't forget, this is the entertainment business and like Gatti, Rios is an all-action star.
"I think he's better than Gatti was," said his promoter, Bob Arum, who obviously has a biased view of things. "I mean, his skill set is a lot better. Now, remember, Gatti didn't really become "Gatti" till he was a pretty old fighter but this kid is real young."
Rios is just 25. On this weekend at the Home Depot Center, he played to a half-filled tennis stadium. However, you get the sense that he if stays on this course, one day he could headline shows down the road at the Staples Center. "We signed a new contract with him; we have a big superstar on our hands. It's going to be really tremendous," said Arum, who wants to bring Rios back on one of his bigger shows in November.
This fight was short- it lasted less than nine full minutes- but you didn't hear any complaints. Rios and Antillon packed 12 rounds of bloodshed and good old-fashioned violence in their three rounds.
Rios said, "He didn't put pressure on like he did with [Humberto Soto]; I don't know why. I think he felt my jab and so he figured that he didn't want to get too crazy because he's going to get knocked out. Because I was actually really wanting him to come at me, like he did with Soto, but he didn't really come at me like that. So the first round, I was testing him out. I felt some good shots; he felt some good shots. So there's nothing I can take away from that."
By the third, Antillon had hit the canvas twice and the fight was waved off by referee David Mendoza as he stumbled around the ring, after his second trip from a Rios right.
"I have power in both hands," said Rios, "but really, I think the right hand did more damage. As you can tell, I have an ice pack on it. That's the thing, we've been practicing in the gym for every punch for Antillon. We knew we seen a lot of mistakes that he was doing for the Soto fight. So we knew we could counter on that and do a game plan." His manager, Cameron Dunkin, said of his fighter's performance, "Oh, sensational, f**king strong; he's getting stronger. He came at angles smarter; he used distance, perfect distance from the outside, combinations. And he not only took over on the inside; he took over on the outside, great jab. He's getting better and better every fight."
With Rios, there are so many potential matchups out there from 135 to 140. It could be a fun ride. Rios is game, "I want warriors at 140; I want the toughest guys, the toughest son-of-a-bitch at 140, so I can say, 'I beat the toughest son-of-a-bitch at 140,' and then, if I beat the toughest son-of-a-bitch, then if Bob Arum's talking about Manny Pacquiao, because Pacquiao's a tough son-of-a-bitch, then we'll be ready for him."

And yes, Arum was talking about a face-off with the "Pac-Man" down the road. Hey, it's never too early to beat that drum.

"If Bob Arum thinks I'm ready for that, that I can be the guy to make a good fight with Pacquiao, then Bob Arum's the man," said Rios, who paid tribute to his

Garden City

roots by sporting a Kansas City Royals cap. "He knows what he's talking about and he knows the business very well. So if he thinks I can do very good with him, Robert Garcia, and then team behind me, we'll be ready 100 percent for him."

In the meantime, Rios will continue to be who he is. That will endear him to some; others will be praying like hell for his comeuppance. He is a polarizing figure, one that inspires both loyalty and hatred. Rios doesn't really seem to care either way.

"I don't change for nothing. I'm just going to be myself."

MERCITO

A possible foe for Rios down the line could be Filipino Mercito Gesta, who made a successful debut under the Top Rank banner over the weekend by halting the overmatched Jorge Pimentel in three.

As for his immediate future, Arum stated, "Well, he wants to fight anybody…King Kong…What we're going to do is give him a fight, maybe on our "Top Rank Live" show on Fox within the next six weeks and then get him ready to fight for perhaps a world title on the Cotto-Margarito fight on December 3rd."

His trainer/manager, Vince Parra, chimed in, "Like Bob said, Mercito would fight King Kong if [Kong] could make 135 pounds. We're just taking it a step at a time. Bob knows what we want; he wants the world and everybody in it but we're going to make sure we make the right business opportunities for Mercito happen and Bob will line 'em up and we'll knock 'em down and keep giving you guys great fights. This kid right now is the next world champion. It's a matter of time."

There is a lot of conjecture about Gesta facing IBF beltholder Miguel Vazquez in the near future. Just my opinion but Vazquez is a stylistic nightmare for anyone at 135 and I just wonder, is Gesta really seasoned and developed enough at this point to face a guy like him or anyone at the lightweight elite, just yet?

ROBBERY

The consensus is that the verdict laid out for the Paul Williams-Erislandy fight, while not the worst of the week (I think the one involving Casey Anthony trumps this one), it does join the pantheon of relatively recent rotten decisions like Joel Casamayor-Jose Armando

Santa Cruz

. While I believe the word "robbery" is tossed around waaaay too liberally (for instance, while I do think Matthew Macklin beat Felix Sturm a few weeks ago, I don't think it was exactly Pernell Whitaker getting jobbed against Julio Cesar Chavez), this time, it's the right word at the right time.

My personal scorecard had it 9-2-1. Just about everyone who doesn't want to be a contrarian for the sake of being, well, contrarian, had the Cuban winning at least eight to ten rounds on this night. He kept beating Williams to the punch and landed the harder, more effective ones throughout the night. But inexplicably, the trio of Al Bennett (114-114), Hilton Whitaker III (115-114) and Donald Givens (116-114) saw it another way.

OK, on the surface, those tabulations look dubious enough. What's interesting is that if you look beneath the surface, both Bennett and Whitaker gave the 11th inning to Williams (10-9). If you watch the round again, that was a pretty clear stanza for Lara. And Whitaker made the 12th an even heat(10-10). Huh? Honestly, while they always tell you that the judges don't know their running tabulations and they turn in their cards after each round, let's be honest; all it takes is some simple arithmetic in your head to know who you have winning. It looks like these two judges did their best to make sure Williams had his victory in hand

Mariano Rivera never provided as much relief from the Yankees in the late innings.

So what can really be done here? Well, I'm sure there will be the usual protests filed and talks of a return bout but that honestly doesn't solve the problem of dubious judging which plagues this sport too often. From here on out, the trio of Bennett, Whitaker, Givens (who were unknown and anonymous in boxing circles) need to be scrutinized heavily, from who they judge, what shows they work, the patterns and types of decisions they render and who they seem to benefit. Trust me, these men will work again.

As for Lara, in many respects, he redeemed himself from his outing versus Carlos Molina and has earned another significant fight- which doesn't necessarily have to be rematch with Williams. As for Williams, once again, all his technical flaws were on display. He kept lunging out all night long with his left hand and his head kept falling over his front foot. If the Klitschkos do the prototypical job in "fighting tall," Williams does just the opposite in not controlling distance and space. What was alarming is that for the first time, I sensed a dulling of the reflexes and his legs looked like they weren't really there.

Regardless, expect him back on HBO because…well, you know why...

FINAL FLURRIES

Regarding Williams and a possible retirement, I don't buy it for one second but when Roy Jones of all people is advising you to call it quits...Speaking of other bad decisions, I still say Magic Johnson deciding to do a talk show is the worst ever, by far...I thought Jesus Gonzalez showed a lot of moxie in overcoming the much bigger Francisco Sierra in what was a very good scrap

on ESPN2's "Friday Night

Fights"... Wherever Lucian Bute is, you're sure to find referee Marlon B. Wrong...After Rios' victory over Anthony Peterson last fall, HBO had first dibs on "Bam Bam's" services. They passed for some reason...And again, yes, I still use a Walkman. So what? It works. And besides my Stevie B, Lisa Lisa, New Edition, Elton John, "Karate Kid" soundtrack and the like are on cassettes...Was it just me or was that venue in

Atlantic City

about as quiet as a library?..."Running" Rico Ramos pulled it off versus Aki Shimoda but I don't see him keeping that WBA 122-pound title for long...Congrats to Derek Jeter on hit number 3000. To me, he will always be defined as a winner and guy who was such a tough out in big situations...I now make a weekly Monday appearance on "The Fight Show" with Mauro Ranallo on SIRIUS 158 around

11:15 AM

, PT...Carlos Molina just outfought the listless Kermit Cintron from start to finish. There's no other way to say it...OK, guys, it's time to quit screwin' around; let's end the lockout and get NFL training camps going here. It's getting close to that time...I can be reached at k9kim@yahoo.com and I tweet at www.twitter.com/stevemaxboxing. We also have a Facebook fan page at www.facebook.com/MaxBoxing.