Antillon Stares down Rios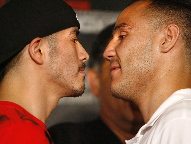 (Photo © Chris Farina / Top Rank)


The final press conference to promote this weekend's bout at the Home Depot Center in Carson, California between WBA lightweight champion Brandon Rios and Urbano Antillon (Showtime, 10 PM ET/PT) was held on Wednesday afternoon at the Wilshire Grand Hotel in downtown Los Angeles. It was a relatively subdued affair compared to the last time they did this, where tempers flared and things got quite heated between the two Mexican-Americans. This time around, both were rather reserved and even respectful toward each other just a few days before they engage in what many believe will be an old-fashioned donnybrook.

But as they posed face-to-face for the media, the jawing began.

And no, they weren't making lunch plans either.

"Oh, no, not at all," said Antillon, chuckling a bit, just minutes after leaving the stage. "I just told him- I took the first word- and said, 'Bring it.' That was it and from there, [Rios] was like, 'I'm going to bring it' and so-and-so; it was along them lines. There was actually no cussing; it was really surprising."

(*Check out Showtime's Promo video CLICK HERE - Opens in New Window)


So by 'Bam Bam's' standards, it was a rather civil exchange. The last time they were in the same room, Rios looked like he wanted to start round one a good month before their scheduled fight. When asked if he didn't want to expend any emotion leading up to the fight, he answered, "Well, I haven't been wasting no energy. He's the one that got fired up last time and so I mean, he held back this time. As a matter of fact, I was pretty surprised he didn't swear in there." It doesn't take much to set off Rios. In fact, you get the sense he looks for things that turn these fights into personal grudge matches. According to Antillon, the ire directed toward him wasn't manufactured, pre-fight hype. "No, I really think he got offended in terms of me mentioning his wife, even though, he probably took it a whole different level than I intended. But, no, I think he was genuinely pissed off."

According to Antillon, there is no extra animosity on his end, regarding Rios. For him, this is just business.

"I feel like this all the time towards my opponent," said the 28-year-old native of nearby Maywood. "I have no angers towards them; I really don't care about him. He's nothing special, just like any other opponent." Much of Rios' persona is a Fernando Vargas-like bravado, where every fight is a personal affront to his machismo and very being. "I think he believes he can intimidate everybody and that's not the case here," said Antillon. "I'm a very confident guy. My training went very well and I'm not insecure like most of his opponents and like he is, in general. I think he's a very insecure guy."

Antillon's trainer, Abel Sanchez surmised, "Y' know, most of the time, the dog that barks real loud generally is the one that's going to put his tail between his legs and run. So I hope that Brandon brings it. You know, Urbano, from the past, will be a fighter in middle of someone's sh*t. Brandon hasn't had to do that yet. He's going to have to do that in this fight; he's going to have to respond in this fight."

Sanchez advised his charge to keep his composure and save it for Saturday night.

"I kept telling him when they were facing each other in the last press conference, 'C'mon guys, be professional' because I don't want somebody to push somebody and get yourself hurt on the table, fall and the fight's off. Like Bob [Arum] said, 'I'm not going to pay you if you fight here.' The fights on Saturday; we've worked tremendously hard. I'm sure they've worked tremendously hard. There's no sense in doing something in the heat of the moment."

For Arum, this all comes with the territory (and besides, it usually makes for good copy) and it's all part of the business of banging the drums for a promotion. "I've been around for so long that I've seen incidents where I thought it would spill over. We had security guards with James Toney, against either Iran Barkley or Mike McCallum. He once attacked the late [boxing attorney] Milton Chwasky at a presser," he said, laughing. "But no, I think the fighters know that- what the hell- they ain't going to get paid [for fighting at a press conference]"

None of the extracurriculars are needed here. What sells Rios-Antillon is that the two fighters' styles seem to mesh so well. It only helps that the two don't seem to really like each other all that much.

"The only way it's not going to be a good fight is, like I said at the beginning, some dogs that bark a lot, generally. When the sh*t gets thick, they tuck their tails between their legs and they run," said Sanchez, who perhaps isn't giving Rios nearly enough credit for turning things around against Miguel Acosta in February. "If he stands in front of Urbano, Urbano's going to hit him. Let's see if he can take it. You know Urbano can."

Twice Antillon has fought for belts; twice he has failed, most recently in his last outing against Humberto Soto for the WBC 135-pound strap in December. It was a back-and-forth affair, one of the very best of 2010. His other loss was a ninth round stoppage at the hands of Acosta in July of 2009. While this may not be a "must-win" fight, it's certainly a pivotal one for his career.

"I gotta admit, these opportunities don't come around that often and for me to continue to stay at the world-class level I'm fighting at now, I gotta win this fight. So in a way, it would be that last chance," said Antillon, who has a mark of 28-2 with 20 stoppages. "Let alone the world title, this is the level I want to be at, fighting the best and that's where I want to be. Winning this fight is going to keep me here fighting the best."

Expect a pitched battle in Carson.

"It's going to be a helluva fight," Antillon stated. "We're two fighters that don't like taking steps back and there ain't going to be many taken here, so expect an all-out war. It's what people are anticipating and that's what it is."

TIX

Arum told the gathered media that approximately 1,200 tickets were left for this Saturday night's card. The Home Depot Center tennis court is personally my favorite local venue. There's not a bad seat in the house and when there's a good fight going on (like the classic third chapter of Israel Vazquez-Rafael Marquez), the atmosphere is electric. It's a fun place to watch a prizefight.

The brisk sales aren't a surprise to the veteran promoter, "No, because the people who are buying the tickets are predominantly from Oxnard (where Rios is based out of) and Maywood. In other words, we ain't selling a lot of tickets in Beverly Hills."

Yeah, that's not exactly the demographic they were aiming for.

Tickets are priced at $125, $75, $50 and $25 and can be purchased at Ticketmaster.com and the Home Depot Center box office between 10 AM-6 PM Monday through Friday and of course, the day of the fight.

PAC TIME

Relating to which network will distribute and televise the November 12th rubber match between Manny Pacquiao and Juan Manuel Marquez, Arum said to Maxboxing, "We've had the HBO offer for almost a week now. We met with Showtime; we're waiting for Showtime's response and my feeling is we'll have an answer from them by the end of the week and by the beginning of the next week, we'll make a decision."

Arum mentioned later on that this press tour will makes stops in Mexico City and Manila, where they will open it up to the public.

MORE TIX

OK, good luck to the general public in getting their hands on these tickets at face value but here's a release sent out by Golden Boy Promotions regarding Ortiz-Mayweather:

Las Vegas (July 6, 2011)...Tickets for the biggest boxing event of 2011 "STAR POWER: Mayweather vs. Ortiz," featuring boxing's biggest star Floyd "Money" Mayweather and boxing's newest star "Vicious" Victor Ortiz, will go on sale FRIDAY, JULY 8 at 1:00 p.m. ET/ 10:00 a.m. PT. The Welterweight World Championship bout, set for Saturday, Sept. 17 at the MGM Grand in Las Vegas, is expected to produce meteoric box office numbers.
Tickets priced at $1,250, $1,000, $600, $300 and $150, not including applicable service charges, are limited to ten (10) per person and $150 tickets are limited to two (2) per person with a total ticket limit of ten (10) per person. To
charge by phone with a major credit card, call Ticketmaster at
(800) 745-3000
. Tickets also will be available for purchase at the MGM Grand Garden Arena Box Office and online at
www.mgmgrand.com
or
www.ticketmaster.com
.
LOCKOUT FLURRIES
In addition to the main event and the co-feature of Kermit Cintron-Carlos Molina, Showtime will show clips of Lucian Bute's defense of his IBF super middleweight title versus Jean Paul Mendy from Romania...This a pretty good looking card on Saturday from top-to-bottom, courtesy of Top Rank. In addition to the debut of Mercito Gesta under their promotional banner, Matt Korobov faces Lester Gonzalez and prospects Jose Roman, Gabino Saenz, Paul Fleming and Mike Lee round things out. Doors open at 4 PM...Arum said that Peter Manfredo Jr. is now back in the running to face Julio Cesar Chavez Jr. on November 19th, most likely now in Houston, Texas...Junior welter prospect Antonio Orozco, has signed a promotional pact with Golden Boy Promotions...Richard Schaefer informed me via email that they are "finalizing" a deal with the Prudential Center in Newark, NJ, to host the October 15th fight between Bernard Hopkins and Chad Dawson...With the impending NBA lockout, the Madison Square Garden in New York (home of the Knickerbockers) is making significant concessions to try and host the Dec. 3rd rematch between Antonio Margarito and Miguel Cotto. Honestly, I think that's where this fight belongs...Don't know what it is but after all these years, I still love V-8...I can't believe Armon "The Hammer" Gilliam has passed away. That '87 UNLV team was one of my favorites, with the likes of Gilliam, "Fearless" Freddie Banks, Gerald Paddio, Jarvis Basnight, Eldridge Hudson and Mark Wade...Can you believe college football teams will be opening up fall camp in about a month?...Good thing Nancy Grace isn't covering boxing; she'd go nuts over all the bad decisions in this sport...I can be reached at k9kim@yahoo.com and I tweet at www.twitter.com/stevemaxboxing. We also have a Facebook fan page at www.facebook.com/MaxBoxing.