Another Year, Another Mayweather Fight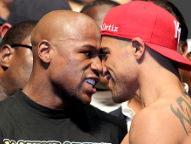 (Photo © Tom Hogan - Hoganphotos, Golden Boy Promotions)


Remember the old Nike commercials featuring Bo Jackson where he declares "Another day, another hobby"? (I know they were from about 1986 or 1987 because Danny Glover's character, Roger Murtaugh in "Lethal Weapon 2," was musing about it) In boxing, it's more like, "Another year, another Floyd Mayweather fight." Yes, Our Sport's favorite villain is back for his not-quite-annual outing, this time against welterweight titlist Victor Ortiz.
I'd be a fool to think any fan reading this needs me to sketch out the particulars regarding our participants so I'll go into what I think are truly important here, my elements of intrigue.
Floyd Mayweather Jr. is and always will be a complex individual, a living, breathing contradiction. The annoying brat one day, the charitable, contemplative champion the next. For all the good and bad, we in the media- print, internet and television- are mostly to blame for the nurturing of the fighter fans love to hate…or hate to love. From bloggers to full-fledged veteran scribes to premium cable vehicles like HBO's "24/7," the phrase "We've created a monster" has never held more weight. At the same time, no other individual in boxing today has captured our attention like Mayweather, save for Manny Pacquiao.

The villainous Mayweather we know today, the brashest he's ever been, faces Ortiz tonight at the MGM Grand in Las Vegas and to most, a simple-as-usual night's work for Mayweather seems the forgone conclusion. Despite everything the media has done in either bashing or lifting the man known as "Money," give credit where it's due. And despite his most recent lengthy layoff, you'd be hard-pressed to use "Floyd Mayweather Jr." and "ring rust" in the same sentence.
I think most fans love to hedge bets against a fighter who's had as many career layoffs as Mayweather. Let's be honest; how many other fighters other than maybe Bernard Hopkins can get away with fighting twice in 2006, twice in 2007, taking a 21-month break before fighting but once in 2009, only to enjoy an almost eight-month rest before fighting only once in 2010. Since that last fight, against Shane Mosley, Mayweather has seen over 16 months of inactivity. Thanks to the prying eyes of HBO's "reality" series, there's no denying that Mayweather looks like he never left, as per usual. For those fans who hate everything Mayweather stands for this is one of the variables that keeps them paying to see him get beaten. It's based on a shared hope that his quickness and slickness in training is but a mere veneer, primed for shredding. Since the first time we were allowed behind the scenes to view the training camp of Mayweather (and all its hilarity) so many "24/7"s ago, it's all the haters have ever hoped for- and it becomes almost formulaic- with fans swallowing the bitter Mayweather pill while frothing over his respective opponents' Spartan preparations and down-to-earth personalities.
Sadly for them, their hopes are never fulfilled. If they were, the subsequent scenario would reek of "Now what?!" At least to my eyes, the comeuppance factor of a Mayweather loss isn't as interesting as how he would deal with it as a professional. Would genuine humility finally surface? (and this isn't to say Mayweather's villainous persona is genuine. Boxing has always needed that heat, be it from Roberto Duran, Paul Malignaggi, Ricardo Mayorga, David Haye or Mayweather himself.)
The black hats simply can't exist without the white hats. There's no one-sided coin, no one-handed clap and no Batman without the Joker and fights like Ortiz-Mayweather serve this template. If there ever was a fighter the common man needed to live vicariously through, it's Victor Ortiz. From his trainer, Danny Garcia, holding down a day job driving for Coca-Cola to Ortiz's hardscrabble days of youth, the titlist exudes a humility and wide-eyed acceptance of his station in life, even after (or maybe even especially due to) uprooting Andre Berto in one of the most entertaining fights this year.
That openness hasn't gone unnoticed by Mayweather, who recently made a very good point about Ortiz's youth in the third episode of "24/7." Long story short, Mayweather said he himself didn't exactly come out of nowhere rich before making a generalization about black parenting. Oh, well. At least he started out making sense.
What I'm having a hard time making sense out of is how Ortiz can win this one and that kind of pains me to say that. Maybe the key to Mayweather actually losing lies with the level of attention he absorbs. What if no one cared about the bluster, the rainmaking, the mouthiness or the TMZ videos and blurbs? My opinion? Floyd Mayweather Jr.'s greatest strength is his greatest weakness: haters. When they put down the 60 bucks, they pay to hate him, thus making him stronger. If you truly hated Floyd Mayweather Jr., you wouldn't give him the time of day.
It's too bad Victor Ortiz doesn't have that luxury tonight.