Andre Berto Looks to Get Back in the Title Picture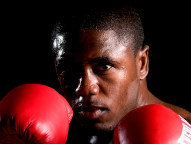 Andre Berto


It was April 16, 2011 and Andre Berto was in the fight of his young life with Victor Ortiz. Berto was hurt and dropped early as well as late and tested throughout. When it was all over, Berto was no longer the WBC welterweight titleholder. If you had to pick a first loss, well, this might be the one you want, a "Fight of the Year" candidate with all your doubters and fans watching you show incredible heart, if more than a few flaws.
I asked Berto this past week during a media conference call if he learned from about himself from that loss than he did from any of his wins over the years.
"Of course," Berto said simply without elaboration.
In the aftermath of the unanimous decision loss to Ortiz, Berto went on a soul-searching mission to Indonesia, seemingly finding some answers and returned to the States with a new plan in place. He hooked up with sports nutrition expert Victor Conte and his SNAC group (Scientific Nutrition for Advanced Conditioning), discovered he was anemic in the process and found a whole new way to approach conditioning and preparation.




Now Berto, 27-1 (21), is set to face IBF welterweight titleholder Jan Zaveck, who is making his HBO debut, in a "Boxing After Dark" show from Biloxi, Miss.
Looking back to that night in April, Berto said he learned a lot and changed even more afterwards. In the end, he chalked up the loss to an off night.
"No. I could have fought any of the other guys I have fought that night. I could have fought David Estrada that night and it would probably be the same outcome," Berto said. "I just wasn't…I just had a bad night. But all focus is on Zaveck. I know there are a lot of Victor Ortiz questions and that is fine but Jan Zaveck is coming over and he's trying to defend his title. I have to give him the respect he deserves, that's to make him noticed and to make him recognized as a champion."
It's somewhat ironic that Berto chose to work with Conte (whose expertise is unquestioned yet his background with the BALCO scandal back in 2005 leaves some with doubts as to the legitimacy of his work with athletes) since is his post-loss tweets intimated that Victor Ortiz might have been on a performance-enhancing substance the night of the fight. Berto said he had no concerns about Conte's work or the supplements he was taking. There's a world of difference what he came to Conte for and what athletes came to BALCO for.
"My comments didn't have nothing to do with me going to see Victor Conte," said Berto. "Of course he has a rough past of some of the things that he did but as for now, I know from being here that what he is doing is legit. Everyone that worked with him in the past knows that what they were doing was dirty. Somebody comes up and puts a big needle in your ass, you know something isn't right, something different. You know what I mean? You're not taking no regular vitamins. Somebody sticking a big needle in your ass, something is different. So that's the thing. These people that worked with him in the past, they knew exactly what they were doing. So from the fact that I am sitting here knowing everything that I am doing and exactly what I am doing is legit and there is nothing to worry about."
I asked Berto if he was comfortable with his new regimen and if he knew what limits to push his body to now that Conte has helped improved his conditioning. He said it was not so much about knowing what he could do physically as much as it was about letting go mentally.
"Oh, yeah. Right now, I'm just going to go. As soon as the bell rings, it's go-to-work time. We had a tremendous camp," Berto said. "To be realistic and to be honest, when it comes to me just worrying about everybody else, that stereotype in mind is gone. I believe that hindered me. In the pros and as an amateur, I was always the type of kid- I was always just a nice kid. I've done everything I can do to have people like me or love but I can see in this game of boxing that sh*t doesn't matter. That sh*t doesn't matter. People are going to like you. They're going to hate you. All that 'trying to make people happy' sh*t, that sh*t goes out the door. You know what I mean? So now I am doing things for me. My family, my team, and all the Andre Berto fans out there that have given me tremendous love, that's it. Everybody else? I don't care too much about them."
What's interesting about this fight is, once again, we get a European fighter who no one in the States has ever seen on an HBO main event. This year has seen Julio Cesar Chavez Jr. take on Sebastian Zbik for Sergio Martinez's WBC belt, Saul Alvarez beating UK fighter Matthew Hatton for a 150-pound catchweight/junior middleweight WBC belt, and Martinez beat former WBO 154-pound titleholder Sergiy Dzinziruk senseless. So I asked Berto's promoter Lou DiBella, who used to buy fights at HBO, if he would have made this fight or if HBO would have bought it if Zaveck had no belt at all.
"First of all, I bought fights for a long time [at HBO] and I think I knew what I was doing," said DiBella, who apparently missed the part where I said, "This is not a criticism." "If you watch tapes of this guy and think this isn't a competitive fight, you're crazy. Would I have bought this fight for an 'HBO Boxing After Dark' main event? - Which it is- 100,000%. There are fights they pay three million dollars for that I wouldn't buy. And the whole name recognition thing is really horsesh*t because it's the only criticism you can make. Because if you criticize this fight, you don't know anything about Jan Zaveck and you haven't watched his fights. What? You think this is a mismatch?"
Normally, I'm the one asking the questions but since Lou asked, I think this is a good fight with potential for a lot of action. Zaveck has a tough shell defense to crack; he's active offensively and looks to have solid stamina throughout. If Berto is not on his game, he could lose his second in a row. Whether DiBella's defensive streak is the result of Twitter shock
from
fans' criticisms in that social forum
, he didn't hear or maybe didn't understand the question until later in the call.
"What's the problem?" asked DiBella. "Andre Berto has been on TV 16-20 times and the other guy is a reigning, defending, multi-defense world champion with a lot of ability. The people that are criticizing this fight were OK with the Dzinziruk fight when no one knew who Dzinziruk was, so I'm a little puzzled."
So was I. I liked the Dzinziruk fight too. I tried again and asked Lou if the alpha-belts mattered since some fans want one belt per division, claiming that the alpha-belts do not matter.
"I don't agree. The belts don't matter until they say they matter," said DiBella. "There's no question the people that buy fights for television are all running around saying, 'Oh, we don't care about the belts' until you don't have one. And then the big fights, with guys like Bob [Arum], Arum is a great promoter who wants to only put his guys in with his own guys…all of a sudden, the titles make a whole lot of difference. And I will give you a perfect example. Sergio Martinez getting stripped of his title because HBO turned down the guy they aired fighting Chavez Jr. for that same belt."
As for Berto, he is entering a whole new world. Most athletes can get by on athleticism. Some never fully realize their athletic potential. Conte's work is all about taking you to your full potential and Berto seems to get this whole elite-level athlete thing.
"It's a different experience. It's different than anything I've done," said Berto to my Leave-it-In-The-Ring.com co-host David Duenez, who followed me on the call. "It's probably an approach I should have probably jumped on in the past just so I can get to know my body more and know the right things to do. I'm here now and we are able to make some good improvements."
In the eyes of many fans, Berto not only lost his undefeated streak and his WBC belt, he was exposed as a fighter coddled by the HBO system, which seems to give special favor to his adviser, Al Haymon. To Berto, the loss was an awakening of sorts. In the end, he believes it was just a small setback for a young fighter of 27.
"I didn't lose nothing that night," said Berto. "The only thing I lost was my undefeated record. I firmly believe that whatever doesn't kill you makes you stronger. Anyone that knows me and knows the history of my family, to be in the position that I am in now is an accomplishment. We fight to the death at the end of the day, man. It was a small bump in the road and we are just going to keep on climbing. That's it."
You can email Gabriel at

maxgmontoya@gmail.com

, follow him on Twitter at

www.twitter.com/gabriel_montoya

and catch him on each Monday's episode of "The Next Round" with Steve Kim. You can also tune in to hear him and co-host David Duenez live on the BlogTalk radio show

Leave-It-In-The-Ring.com

, Thursdays at 5-8 PM PST. Gabriel is a full member of the Boxing Writers Association of America.