Alvarez shuts out then stops Rhodes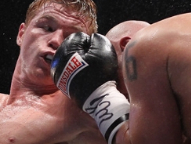 (Photo © Ed Mulholland, HBO)


Saul "Canelo" Alvarez made an impressive, if unexciting, first defense of his junior middleweight title Saturday night, stopping Ryan Rhodes in the twelfth round in an HBO-televised fight live from Guadalajara, Mexico.

The action started off slowly in the first as both men looked to establish the jab. Alvarez worked a few punches to the body early on and Rhodes got in a left hook without full power. Rhodes did switch to southpaw and ate a right hand for his trouble. TheAlvarez worked in a few right hand uppercuts but Rhodes took them well in a round that felt like Canelo's.

The second was all Alvarez as he let his hands go in combination, using his right hand and left hook to the body in particular. Rhodes looked tentative as he pawed with the jab, moved back away and didn't throw much of anything. Alvarez kept his jab going landing his right hand and remaining poised in his approach throughout.

Rhodes looked to attack as a southpaw, using his straight left in the third to no avail. Alvarez kept moving his head just enough and countering him with right hands and jabs. Alvarez slowly picked away at Rhodes, getting to his body here, landing a right there in yet another round he took every second of.

It was more of the same in the fourth with Alvarez landing what he wanted and Rhodes not doing much. But with less than a minute to go, Alvarez landed a right hand off his double jab that caught Rhodes on the back of the head as he dipped and dropped him. Rhodes got up quickly and appeared to be fine. Canelo opened up, landing a few nice shots but Rhodes was able to last while standing in front of Alvarez.

Rhodes switched to southpaw and orthodox and back but it was no use. He ate everything Alvarez threw at him. At this point, Rhodes needed a knockout and was doing nothing to get it. It was total domination.

Buy the middle of the fight, it was clear Rhodes would not be doing much more than what he had done in the first half. Cut under his right eye, nothing working for him despite switches in approach, Rhodes seemed resigned to lose despite his corner's attempts to rile him up. Alvarez stayed steady, working to the body and head of Rhodes at will and moving forward throughout.

Before the final round, Rhodes corner told him that he might as well get knocked out trying than to accept this decision. So he went out and to his dismay, it was Alvarez who stepped up the action. Finally, with Rhodes doing not much at all, his corner began to throw in the towel and the ref stepped in to halt the action at :48 of the 12th.

"I think I underestimated his power a bit," said Rhodes afterwards who admitted Alvarez' body work took a lot out of him.

The win, which puts the twenty year old Alvarez at 37-0-1 with 27 KOs and drops Rhodes to 45-5 with 31 KOs, keeps the young boxer in line for big fights down the line with fellow Mexicans Julio Cesar Chavez, Jr or possibly Alfredo Angulo should he ever return to the ring. Next up will be an optional defense on the undercard of Mayweather/Ortiz on September 17. However, Canelo's next mandatory defense is against Vanes Maritrosyan.

"If I have to fight the devil I will fight the devil," said Alvarez who reminded the HBO crew his job is to fight and his management's job to pick the fighters. "I am ready for everything."

I wonder if Golden Boy Promotions, his promoter, agrees.

Adrien Broner makes Short Work of Jason Litzau

For two minutes and change, you could almost hear the collective groan of HBO subscribers as Jason Litzau, 28-3, 21 KOs, squared off with Adrien "The Problem" Broner, 21-0, 17 KOs. Both men came to center ring . . . and did very little but stare and poke and prod a bit. Across the world, fight fans on twitter, watching the broadcast, and live in the arena, had to have flashbacks to Broner's debut last March on HBO on the undercard of Alvarez/Hatton against Daniel Ponce De Leon. In that fight, Broner's nickname felt more like "the Boredom" as he refused to engage for any length of time and won a close, disputed decision.

However, in this fight, with the clock winding down on the first round, suddenly Broner exploded. He missed his initial punches but moved Litzau back to the ropes. Broner missed a left hook but landed a long right hand that hurt Litzau who went into defensive mode. Broner opened up to his head, missing wildly but landing another hook, an uppercut and a final brutal hook as the ref waved the fight off and Litzau hit the canvas, his head out of the ring over the ropes.

The time was 2:58 of the first round.

"First of all I would like to thank God and HBO for giving me another shot to exploit my talent and giving me another chance," said Broner afterwards. "I want to thank Golden Boy. My new management, Shelly Finkel and my new promoter." Broner would shout out to his son, whose birthday it was, and everyone under the sun with one exception. It was odd Broner did not mention adviser Al Haymon who probably had the most do with getting him this title shot; a fact apparent on the faces of Sam Watson and his son Brandon who are part of the Haymon Group.

"I knew he was going to come to fight," said Broner. "I knew I had to stay focused, listen to the corner and stick to the game plan."

With a win like this, Broner should have thanked himself for not extending this fight longer than it had to. He needed a win like this and he got it.