Alvarez impressively stops Rhodes, retains WBC title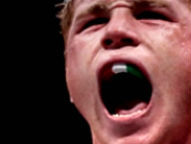 (Photo © Ed Mulholland, HBO)


Last night on HBO's Boxing After Dark, WBC junior middleweight champion Saul "Canelo" Alvarez (37-0, 27 KOs) showed off an impressive offense and improved defense in stopping number three ranked contender Ryan "Spice Boy" Rhodes (45-5, 31 KOs) at the arena VFG in Jalisco, Mexico.

From the opening bell to the final round, Alvarez patiently out worked and out punched the 34-year-old Rhodes. The opening stanza was more a feeling out round as Alvarez feigned while Rhodes tried to confuse Alvarez by jabbing and switching to southpaw. Alvarez landed a nice combination near the end of the round that seemed to stun Rhodes.

Rhodes tried jabbing again in round two, while the champion landed a nice right, left, uppercut combination. The pattern continued in round three as the poised 20-year-old constantly beat Rhodes to the punch. Rhodes was pawing with his right but not landing anything of significance.

Things heated up in round four as Alvarez unleashed a nice combination to the body and head, culminating with a right that knocked Rhodes to the canvas. With his hometown crowd screaming, Alvarez went for the knockout and stunned Rhodes again with a big right, but the game Englishman stayed on his feet.

Alvarez continued his domination in round five, landing a quick combination to Rhodes head. In round six Rhodes landed his best punch of the fight, a right to Alvarez's chin. The punch hardly bothered Alvarez who dominated the rest of the round.

In round seven blood was dripping from a cut below Rhodes right eye. He looked discouraged, but kept trying to find a home for something that could change the momentum of the fight. Alvarez continued at his controlled pace, landing another fast combination to the head. His body work was taking a toll on Rhodes. Rounds eight through eleven continued the pattern with Alvarez's combinations doing the damage.

Before the bell for the twelve and final round, Rhodes corner told him to go for a knockout. Alvarez obliged and uncorked a three punch combo that staggered Rhodes. Alvarez followed up with a classic combination, followed by an uppercut and another right that caused the referee to call a halt to the proceedings 48 seconds into the round.

Rhodes was classy in defeat and acknowledged Alvarez's superiority. " I felt like I had to knock him out. I underestimated his power. He's a strong young kid who caught me with a lot of body shots".

Asked if he would consider hanging up the gloves after his defeat Rhodes stated he had nothing to feel bad about. "I was beat by a superstar of boxing".

Alvarez was pleased with his performance. "I'm very happy, I did a very good job. My training went very well."

He knew he was hurting Rhodes with his body shots. "I could feel him flinch when I hit him to the body", he stated.

Alvarez didn't name who he fight would next. The big fights are out there. " I'm ready to fight anybody. If I have fight the devil, I'll fight the devil".

-- Questions/comments johnboxing1@hotmail.com