Alfonso Gomez: Contender or Cannon Fodder?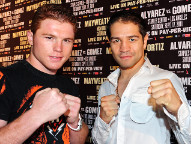 (Photo © Carlos Delgado, HoganPhotos/ Golden Boy Promotions)


Alfonso Gomez was chosen to face WBC junior middleweight titlist Saul Alvarez this Saturday night on the Staples Center portion of the "Star Power" pay-per-view card. Like most of "Canelo's" foes, this is a carefully calculated bit of matchmaking designed to make the young icon shine without much risk. Gomez, best known for being a contestant on the first season of "The Contender," understands what role he plays here.
It's to be the "opponent" or the B-side.
"So far, out of my [29] fights, 25 of [my opponents] have made a mistake, so I don't think this is going to be the exception. It's just the story of my life. It makes the victory even more sweeter," Gomez said last week during a hot, sweltering day at the Azteca Boxing Gym, where he shook out for a group of reporters.

Last December, he was in the same role against Julio Cesar Chavez Jr., before he had to pull out with an injury to his left elbow but now he gets another chance to gore a cash cow. "I think it's an even bigger fight against a bigger, more popular fighter. Even though Chavez Jr. is a well-known fighter, 'Canelo's' a champion, so we're going to be fighting for something bigger than what I would've fought Chavez Jr. for," he said.
The bout against Chavez Jr. was scheduled to take place on a small, independent pay-per-view card produced by Top Rank. "Star Power" is on a much larger, expansive stage.

"I wanted this fight. I knew that I had a good opportunity to get this fight," Gomez explained. "I mean, so far, I've been picked to fight [Arturo] Gatti and [Jose Luis] Castillo and [Miguel] Cotto and all them guys because they picture me to be a simple, easy fighter," said Gomez. "And so far, I've proven many times that that's not true and this wasn't the exception. I think they picked me because they feel I'm a lighter weight. I'm a welterweight. Maybe I don't have the devastating punch that can really hurt 'Canelo' but I will prove them otherwise, September 17th."
As this fight was first discussed months ago, one significant hurdle had to be cleared, the "Cold War" between Golden Boy Promotions and Top Rank, which was fully active at the time. While not officially under the Top Rank banner, in recent years, Gomez had regularly appeared on their events. Bridging this gap was his manager, the respected Gary Gittelsohn. "I really only had one reasonable approach," Gittlesohn explained. "That was to first get the permission from Top Rank, even though there was no contractual obligation. Top Rank had invested a lot of money in developing Alfonso and Alfonso was getting regular work on Top Rank shows. So I wanted to get their blessing to move forward with this opportunity for Alfonso, if Top Rank had nothing comparable that they could offer him. And to their credit, they evaluated what they had. They evaluated the opportunity Alfonso was offered and they gave me their blessing. So I guess when you approach things in a businesslike fashion, sometimes it works out great."
Because of the size difference and with Chavez becoming a full-blown middleweight, the chance to face him would never come again unless Gomez ventured to middleweight for the first time since May of 2005. Alvarez then became the fight he yearned for.

"He wanted it more than anything. It was his number one fight. He knew that the Chavez fight would never rematerialize and that was a lost opportunity. This was his number one fight," Gittelsohn stated.
Gomez says of this match-up, "It's a little more special because obviously, it's the Mexican Independence Day [weekend], so a lot of Mexicans will be watching this. It's going to be a big celebration. Also, it's the dream of every Mexican fighter to be an icon in Mexico and a well-known fighter with the Mexican fans, so it's a great opportunity to do it against a very popular fighter like 'Canelo.' The manager added, "This is a fight that has so many dimensions to it, not the least of which is that both kids are from Guadalajara. There's nationalistic pride. This is a fight that Alfonso believes he can win. It's a fight I believe he can and it's a fight that will finally put him on the map if he does win. Alfonso has never gotten, I believe, the credit he deserves. Everybody always makes excuses, 'Oh, he beat Gatti. Gatti was already washed up. He beat Castillo. [Castillo] was already washed up.' Well, the fact of the matter is, he beat these guys. The only performance where he performed subpar was against the very best Cotto that ever existed. It was a Cotto before [Antonio] Margarito. It was the Cotto before [Manny] Pacquiao and it was the very best Cotto.

"So he lost to a great fighter at the peak of his heights."
For the Gatti bout, Gomez was the B-side and he ended up bludgeoning "Thunder" in what was his last professional outing in 2007. That victory propelled him to the Cotto fight, two fights later, where he was thoroughly outclassed. As for Castillo, well, by that stage of his career, it was "El Temible" who was brought in as cannon fodder for Gomez on the Pacquiao-Joshua Clottey undercard in Arlington, Texas last year. The question is, is Alvarez closer to the version of Gatti that Gomez was paired with or Cotto?
Gomez was tabbed because he has some notoriety, a crowd-pleasing style and, perhaps most importantly, is a natural 147-pounder. It's fights like this that have many critics stating that as a beltholder, Alvarez- much like Chavez Jr.- is a shielded fighter, whose marketability trumps his actual physical ability.
When asked that question, whether he's actually the goods or someone who's a bit of a mirage, Gomez answered, "I think it's a combination of both. He definitely is good. He didn't become world champion by sitting on a couch. You have to put the work in. You have to win. But he also has the popularity he has with television and marketing. But at the same time, his opponents have been well-picked. They feel the same with me and I'm going to try to prove them wrong like I've done so many times."
Veteran cornerman Ruben Gomez, who trains the personable pugilist alongside Gomez's father, says, "For as long as we've been involved with him, I think this is the very, very best camp. We always seem to have some kind of health issues. This time we've been very good. He's been working his butt off, so I think an upset is not out of the question." The focus he has for this contest has him harkening back. "I remember when Tommy Hearns fought Robert Duran. Every time I ran into Tommy, he would tell me, 'I eat, sleep, drink- whatever- Duran.' Alfonso reminds me a lot of that. There's nothing- nothing more that he wants to do and nothing more important to him at this stage of his life than beating 'Canelo' Alvarez."
Being the smaller fighter, does Gomez bang or box with Alvarez?

"I dunno; whatever tune they play on that fight, I'm going to dance to it," said Gomez. "I've been practicing to box and I've been practicing to brawl to push him. I know that he likes to start slow by moving around and measuring his power but, at the same time, I've seen him put the pressure on. So whatever tune they play me, I'm going to dance to it."
Either way, Gomez understands the enormity of this fight as it relates to his career prospects. Even more than appearing on a reality show, this could be a life-altering event.
"The attitude is either I win or I perish," he said, with determination. "That's my attitude. I have to go in there and take it all in and really win this fight. I'm sure [Alvarez is] already a well-known fighter. He's already established. He's already crossed that line, that if he loses, he's still going to have big opportunities coming his way. On the other hand, I don't have that, so I really need to take it to him. Either I win or I perish."
In reaction to the news that we might be seeing a junior middleweight match-up between Alfredo Angulo and James Kirkland in Cancun, Mexico on November 5th on HBO, the always opinionated Lou DiBella tweeted (@loudibella): "Nothing wrong w/Angulo vs Kirkland, but should a guy be rewarded for getting tossed out of the country for improper behavior? @ hboboxing." He then added: "Funny, but when i was at

@ hboboxing, i was barred from Mexico as gen rule. Safer now? I was also prohibited from going to Canada as promoter"
After reading this, I responded (@stevemaxboxing): "People who put on fights with 26-1 odds and really bad Berto fights should not complain about Angulo-Kirkland being made

#

boxing

"
OK, later on, DiBella and I talked and he made it clear that he didn't really have a problem with the fight itself (as he originally tweeted) but some of the circumstances around it. Fair enough, but to me it's very simple. For better or worse, I'm a bloodthirsty savage (and judging by the reaction I got on Twitter, so are many of you) and I don't care if two axe murderers are matched-up, if it looks like it's going to be a slugfest- I want to witness it. Don't care where it takes place, at the Home Depot Center in Carson or Kabul, Afghanistan (where I don't think HBO would agree to go, by the way). And I'd rather see a fight between two criminals than two choirboys, truth be told.
Both Angulo and Kirkland have run afoul of various laws but last I checked, no laws are being broken here in having these two meet in Mexico. And while one is still working out his immigration issues (Angulo), the other has served his time (Kirkland). Does DiBella have a problem with Michael Vick getting "rewarded" for his past transgressions with a $100 million contract with the Philadelphia Eagles? These men still have a right to earn a living, last time I checked.
I'm no moral arbiter (thankfully for our society) but neither is the sport and business of boxing. This is about prizefights, not putting together the Mormon Tabernacle Choir. Boxing is made up of hard men, who often times have troubled backgrounds- hey, it's one of the reasons why they've had to turn to the most brutal and unforgiving of professions. If a certain segment of the population has a problem with Angulo-Kirkland, they can choose to ignore this fight.
DiBella should realize, when you point fingers, three of them come right back at you. He should live and let live and concentrate on his own promotions and making sure that his client, Sergio Martinez, has more fans for his upcoming bout than your usual high school recital.
With Ricky Burns ditching his WBO 130-pound title, Adrian Broner will now be fighting for the vacant belt. Word is that Luis Cruz, the second-ranked challenger behind "The Problem," has turned down the bout and now, the fourth-ranked contender, Eloy Perez, had taken himself out of the running because of a reluctance to go to Broner's hometown of Cincinnati and because the family that manages Perez, the Garcias- who are fine folks- had their daughter's wedding scheduled for that date.
Well, I was informed that Perez's camp has had had a change of heart and they are now more than willing to postpone the wedding and go to the "Queen City." I'm glad they got their priorities straight. I mean, c'mon, title shots don't just come along every day. Could you imagine the Petronellis telling Marvin Hagler, "Uh, yeah…Marv, that title shot…we're gonna have to pass. Our niece is getting married that same weekend." When opportunity knocks, you answer the door.
Besides, you can get hitched anytime. This here is for the ever-prestigious WBO strap. And half those things end up in divorce, don't they? (I kid, I kid. Please save your indignant emails.)
There could be bout between Austin Trout, who holds a version of the WBA junior middleweight title, and Delvin Rodriguez. According to Greg Cohen, who handles Trout's career, "We are in discussions for an HBO 'After Dark' date in late November."...A source at DKP tells me that Guillermo Jones will headline a show in Hollywood, Florida on Nov. 5th on Epix. The big question is, will Jones actually show up when it's all said and done?...I think with the injury to Eric Berry, the KC Chiefs might actually be worse than the Peyton Manning-less Colts. The race for Stanford signal caller Andrew Luck is on...By the way, what other tandem besides the Pats' Tom Brady and Bill Belichick would go shotgun spread on their own one-yard line in a 31-17 game with six minutes to go and just air it out? That's why you crown them...Manny (Ramirez) being Manny is going to have a very sad ending, don't you think?
…I can be reached at k9kim@yahoo.com and I tweet at www.twitter.com/stevemaxboxing. We also have a Facebook fan page at www.facebook.com/MaxBoxing.