A Full Decade of ShoBox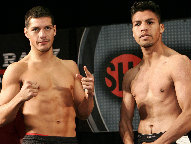 (Photo © Chris Farina / Top Rank)


Tonight at the Texas Station Gambling Hall and Casino, in Las Vegas, rising junior lightweight Diego Magdaleno, 19-0 (7), faces Alejandro Perez, 15-2-1 (10), in the latest edition of "ShoBox: the Next Generation" (Showtime, 11:05 PM, ET/PT). Believe it or not, this series, has featured would-be champions such as Leo Dorin (who appeared on the very first "ShoBox" back in July of 2001), Juan Diaz, Ricky Hatton, Robert Guerrero, Kelly Pavlik, Kendall Holt, Paulie Malignaggi, Andre Ward, David Diaz and Yuri Foreman, among others. Rico Ramos, who just recently captured the WBA 122-pound title, is just the latest alumnus of this series to make it to the top of the mountain.
The architect of this series is its Executive Producer, Gordon Hall.

"The idea [for the series] from what I recall came about between a meeting between Jay Larkin and Gary Shaw. In the beginning, when we were only working with two promoters, Gary was with Main Events at the time and we were also doing a lot of work with Frank Warren at the time." Hall told Maxboxing. "So primarily, we worked with two promoters in the first year or so and then the second year, we decided to branch out and I got more involved in the process and working in researching fighters and working with other promoters. Really feeling that if we were going to strengthen this product, that we should try to expand ourselves and work with other promoters, to have a little more leverage and to create a better product."

This card is being promoted by Top Rank. There were complaints within the industry early on that "ShoBox" was more or less just "ShawBox" and exclusively the domain of GSP. In recent years, that has changed. Hall says, "Well, I think it's an open shop; you always have to take under consideration that we only average 15 shows a year. So we obviously want to get the best of the young fighters and we also have a 'Championship Boxing' platform that allows us to work with a lot of the bigger promoters who tend to have a lot of the better younger fighters."
"ShoBox" has had some memorable moments. Who can forget that unforgettable 12-round battle between Ebo Elder and Courtney Burton or that furious minute between Kendall Holt and Ricardo Torres? Then you had the original hook-up between Sechew Powell and Cornelius Bundrage, where if you blinked, you missed a double-knockdown and "K9" getting halted early on.
What really stands out to Hall are the fighters he has played a part in developing.
"I would say that my memorable moments are certain fighters, certain fights. I think even back in the early years, I can remember Juan Urango fighting 'Mighty' Mike Arnaoutis. Both of them were undefeated; both of them were young. It was a war, a draw and, of course, Urango did go on to win a title and Arnaoutis challenged for them. I think that was sort of a great typical 'ShoBox' fight but I think some of my memories are even of losses. I think when Robert Guerrero fought on 'ShoBox,' he fought there five times and he lost [once]. And the time that he lost, he was ranked across the board in the sanctioning bodies, undefeated and highly regarded and came on 'ShoBox' fighting a veteran, Gamaliel Diaz, and he lost that fight. That loss I think is something that might have told him that, 'Maybe I should run an extra mile or maybe I should work out a little harder, spar a little more.' I think because of that loss, it's what propelled him to become a world champion.
"Of course, there's always Tim Bradley's story, which was a great story for us because we brought Timothy on 'ShoBox.' He fought three times and then he was able to put himself- because of those appearances on 'ShoBox'- in a position to fight for the title against Junior Witter with the opportunity to do a title fight on 'ShoBox' and, of course, Timothy Bradley came in as being a big underdog in that fight and went on to win."

The series operates on a license fee, usually between $50-60,000 per telecast (save the occasional "special edition" like their August 6 card featuring Pavlik making his homecoming appearance in Youngstown, Ohio). There is a constant tug-of-war between this franchise's mission statement, which is to match prospects with one another, versus the agendas of promoters who may want to move their fighters at a more judicious pace.

"One of the biggest challenges with young fighters is getting competitive match-ups for them. Prospects, traditionally, when we were younger, were brought along slowly. They were fighting on undercards and not seen, early in the evening or late in the afternoon and rarely seen. In matchmaking, I think that the hardest thing to do is to work with a promoter who obviously has a talented young fighter and finding what is the proper step up for that particular fighter," said Hall in describing the fine balance he has to walk. "I mean, we've seen Jaidon Codrington, who was 9-0, fighting Allan Green, who was 17-0. Now, listen, I was thrilled about that match-up. Lou DiBella felt that Jaidon Codrington was ready for that challenge of Allan Green at the time and as it turns out, he wasn't and he got a severe knockout [loss] in the first round. It's questionable how much of an effect that had on his career but that may have been too soon for him."
For the most part, "ShoBox" has matched its fighters in a proper fashion. The results speak for themselves and it's basically become a rite of passage for any prospect in the States to specifically appear on this program before moving on to bigger and better things. There is an absolute sense of pride when a young fighter ascends from prospecthood to being a bona fide beltholder.

"There's a lot of self-satisfaction in that for all of us that work on 'ShoBox' because we're here to develop fighters, to have them on multiple times, to develop them, to grow them and a lot of times, they grow to a point and then we have our 'ShoBox' graduates and they go on and eventually vie for a title."
This series has had 321 fights, over 157 telecasts and produced 43 champions.
Hall states proudly, "This series is something we're very proud of because of the fact that it is unique and has a purpose and a definition that's different and I think we've been successful."
TRADER TIM

My guy, "Trader Tim," who provides me with my full arsenal of international fight DVDs, wanted to respond to an email I printed earlier this week in regard to official Denny Nelson. Hey, you provide this service for me, you get editorial power in my columns. This is what he had to say:
"I'm not too sure about the validity of your Twitter fellas allegations against Denny( Nelson). This dude mentions the Kotelnik fight but Jerry Roth and the 3rd judge scored it the exact same way. Against Matthysse, Nelson had Alexander by a single point. I had it a single point to Matthysse and I also was ringside. One point either way in a fight like that is hardly "proof" of anything. Plus, Denny scored Vanda-Campas and Vanda-Kost both against Vanda (correctly, I might add) with Vanda being the ultimate "home town" guy. Nelson is a long time ref and has done nearly 40 true world title fights. Sometimes if we want something to be true so bad, we find a way to try to back it up.
Oh, and in regards to the Argentine fight btwn Caballero-Barrios? you watched it by now i'm sure. That fight was ugly with a capital U. very hard to score. I watch the TyC boxing broadcast every week, "Boxeo de Primera" and trust me when I tell you those clowns have no clue how to score a fight. I think we already know this to be true about Rafael, LOL.

SHAMELESS PLUG

You can watch the rematch between Lee Purdy and Craig Watson for the British welterweight title and Lonsdale belt on Saturday afternoon right here:
http://radio.thescore.com/episodes/july-14-dishonest-judges-and-honest-fighters

FRIDAY FLURRIES

The opening bout for "ShoBox" is another junior lightweight bout between Casey Ramos and Georgi Kevlishvili...Camps from Mike Jones, Sergiy Dzinziruk and Paul Williams have all contacted the representatives of the streaking Carlos Molina, from what I'm told...If you want to see Juan Manuel Marquez's bout this weekend from Mexico, it will be streamed live on Toprank.tv starting at 9 PM, ET/6 PM, PT on Saturday night...TMZ.com is reporting that Shane Mosley must give up three of his championship belts to his ex-wife, Jin, in their divorce settlement. It's the first time a fighter has been stripped of his belts and you can't blame the WBA, WBC, WBO or IBF...Just wondering, does Jin Mosley have to pay any sanctioning fees for them?...Roger Clemens getting off with the feds is the best day he's had since striking out 20 Seattle Mariners...'The Curious Case of Curt Flood' on HBO was outstanding. Those guys can still make incredible documentaries...I can be reached at k9kim@yahoo.com and I tweet at www.twitter.com/stevemaxboxing. We also have a Facebook fan page at www.facebook.com/MaxBoxing.