A Conversation with Nacho Beristain: Part Two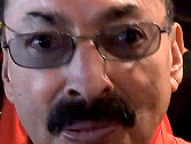 Nacho Beristain

Translated by Zaira Nazario

As the conversation moved along in the private room at the Mexicali café "Slow Down," photographer Ray Flores, writer Scott Hale of Halesports.com, our translator, Lucy Haro, and I asked Hall of Fame trainer Nacho Beristain about the changes he has seen in boxing's popularity, globally, and particularly in Mexico.
"What happens is in Mexico, boxing was the number one sport, the number one show. Not today because now, soccer came to push all sports to the side worldwide," said Beristain. "Soccer is the most popular one now. Even I am very attracted to watching soccer."
However, Beristain was quick to dismiss the clichéd notion that boxing is dying with the advent of MMA.
"It is very difficult because boxing is an extraordinary show," said Beristain, sitting back with his cigar and contemplating the future. "It will not die in Mexico. A lot of people attack it. There are many detractors but if you go to the history of boxing, you will see that boxing was very popular in the first Olympic Games. What has to disappear- and it is a little bit difficult- are the thieves we have in boxing."

Beristain would go into detail about one "thief" in particular, who will be mentioned later in this particular installment and highlighted in a later installment.
The conversation moved to the subject of trainers. One subject that recently has come to my attention is the lack of trainers' rights. A fighter can spend years with one trainer, move to a top position and because of the lack of contract (which is often the practice between trainers and fighters), the trainer can be left in the cold in favor of a more cost effective choice or a trainer who is more agreeable. Beristain started by sharing a story of trainer Alcides Sagarra, who trained such notables as Felix Savon. Sagarra suffered a fate worse than being left behind.
"I used to go to Cuba three times a year from 1964 to 1980," said Beristain. "I have a video that someone just gave to me as a gift of a Cuban trainer. The greatest trainer of Cuban fighters, Alcides Sagarra, is my friend. They have him punished now because he took a fighter out of the team that was going to the Olympics and replaced him with another fighter. He assured them that fighter was going to win the medal and he couldn't win the medal."
I asked Beristain his thoughts on if trainers need more legal protection provided by the commissions. I'm not sure he understood my question initially; regardless, he did provide a hilarious anecdote

.
"Well, I have received a lot of awards. In Mexico, I received "El Heraldo de Mexico". In the United States, I received a sculpture of the spirit of boxing, the California Boxing Hall of Fame, Canastota Boxing Hall of Fame...I think besides the fact that God has been very, very, but exaggeratedly good with me, people in boxing feel a lot of love for me in all the world," said Beristain. "I receive letters from England, from Ireland, from Scotland, from many places, where people congratulate and recognize me. Even a very ugly lady in Spain wanted to marry me. She has a lot of money but looks like a mummy. She has a lot of money but when they showed me the picture, I said, 'No,' and I almost faint. I almost insult seriously the Spaniards that called me. 'Ugly' was little to say. This lady, besides ugly, was old. Two weeks ago, there was a piece in a newspaper in Mexico saying she already found a man who will marry her. He is 28 years old and is from Spain and he was holding her hand. Let's see if the hand doesn't fall off because she's already too wrinkled."
Fighters of today often have a nutritionist, strength coach, speed coach, conditioning coach, motivational speaker and the guy who holds the towel. Beristain is from the old school and believes a good trainer should be all of those things.
"I have never needed a physical conditioning coach," said Beristain. "The government sent me to Russia precisely to take a physical conditioning course but the old trainers have never needed a strength-and-conditioning coach."


Finally, I got through with my question about the fighter/trainers contract. Like each of the trainers I spoke to in my recent article on trainers, (creatively titled The Trainers), Beristain believes it is up to the individuals to handle their business.
"I do not sign a contract with the fighters because when they make me mad, I have the freedom to ask them to leave," said Beristain. "Ricardo Lopez, being a world champion, the only fighter that [I have] retired undefeated as a professional - he never lost as a professional - made me mad one day and I asked him to leave. He then come to ask me to forgive him and I told him: now you will pay $100,000 for each fight before you fight. He came back to train with me and I charged him before the fight.
"
This kind of freedom allows Beristain to take each fighter on a case-by-case basis. Chemistry between fighter and trainer is a key component to success. A trainer can have all the knowledge, the fighter all the talent, but if they cannot see eye-to eye or are not open to learn and grow together, it just won't work. Personal character is everything in a relationship of this or any other kind.
"[Former bantam and super bantamweight champion] Rafael Marquez is a boxer with a different character than his brother, [Juan Manuel], rude with people. I told him many times, 'Look, both you and I live off those people that pay their tickets. Because of them, we can support our families. Respect them.' His brother is different. His brother has become an idol. People love him because he's very humble. He hugs people; he helps them. He has another different character. It surprises me.
"One day we traveled from Los Angeles to Mexico and there was a lady with arthritis," Beristain continued. "Juan helped her get her luggage inside the plane. In the airport in Mexico, he helped her carrying her luggage in a cart. It was a beautiful gesture. That is why people love him so much. He is an idol in Mexico. In the United States, he now gathers the crowds that Oscar De La Hoya used to gather."
I asked Beristain if perhaps a trainers' union is the way to go.



"In Mexico, there are [unions to protect trainers] but they are always fighting," said Beristain. "They do not help each other. Because of that, [Adolfo] 'El Negro' Perez always had a gym rented only for him. Me, after the first world champions I had, in 1992 I bought some land and built a gym. It is called Romanza. It is the name of the boxer that was born here in Mexicali, Roman, and the two letters of Zaragoza. It is in Colonia Granjas de Mexico."
For his fight with Manny Pacquiao, Oscar De La Hoya hired Beristain to work his corner. One of the sparring partners for the fight was the late Edwin Valero, who did not last long in camp. Beristain offered his thoughts on the late lightweight titleholder who reportedly killed himself in a jail in Venezuela in April 2010 after killing his wife the night before.
"He was a bit crazy," said Beristain. "As a fighter, he was bad but when he hit, he hit very...[hard]. But look at the story of that fighter. Since he was a kid, he was a thief. When he was young, he would go, for example, on a motorcycle with someone on the back and they would find somebody else with a motorcycle, get him off and steal it. One day, the cops [gave chase] and he hit a post. A metal plate had to be implanted on him. That's why here in the US, they didn't allow him to fight. He was somewhat crazy. He married a very beautiful woman and used to beat her quite frequently. She shot him in the [inaudible]. The last thing he did, he beat his mother.
"
It should be noted while Valero did have a motorcycle accident that caused bleeding on the brain, a condition that cost his license to box in the US, no mention of a metal plate had ever been heard by this writer until this conversation.
"I chucked [Valero] out of Oscar's camp," said Beristain. "I asked them to give him his money and get him out. He was there in camp until 1 AM playing pool and drinking."
On the media day for that fight, held in Big Bear, CA where Oscar was training, De La Hoya was sporting a black eye. While some reports claimed it was from a sparring session with Golden Boy Promotions fighter Victor Ortiz, I had heard that Valero, who bet a large amount of cash on Pacquiao to knock out Oscar, was in fact the culprit. Beristain confirmed this.
"Yes. He threw a punch after time was over," said Beristain. 'Time was over' meaning after the bell had rung in a sparring session. "The next day, I chucked him out. That's why he disliked me. Whenever he would see me, he would not say hello. Oscar's brother said, 'No, he's not leaving.' I told him, 'Yes, he is leaving; he is leaving now.' So Joel went to complain to Oscar. Oscar told Joel, 'You have to obey. If Don Nacho said he goes, he goes.'"
Beristain explained that it was his decision to stop the Pacquiao-De La Hoya fight. Many have claimed Oscar quit on his stool in between the eighth and ninth rounds. On the HBO tape, Oscar is asked if he wants to continue and he shakes his head 'No' but to hear Beristain tell it, the decision was already made and it was actually Oscar's brother, Joel, who wanted to make sure.
"In the corner, when he was hitting him, I told Oscar, 'If you don't throw punches, I'm gonna stop the fight because this guy is not going to be gloating over you.' His brother said, 'No you're not gonna stop the fight.' I said, 'Yes, I will stop it and I am the one in charge here.'"
We asked if that was the problem with Oscar going into that fight, too many voices in camp.
"No," said Beristain. "No, the problem was the drop in weight. His legs were not working well."
Beristain explained that De La Hoya's plan to drop down to 147 well before the fight in order to become strong at that weight vs. the smaller Pacquiao completely backfired. De La Hoya's strength coach, Rob Garcia, simply dropped Oscar too low in weight too soon and that ultimately left Oscar listless and flat in the fight.
Changing trainers was a major theme in De La Hoya's career. He worked with Robert Alcazar, Gil Clancy, Beristain, Jesus Rivera, Freddie Roach, Floyd Mayweather Sr. and Emanuel Steward. I might be missing a few. I asked Beristain if that constant change stunted his growth as a fighter and possibly kept him from finding his true identity in the ring. Beristain answered and then offered a glimpse into what might have been.
"No," he answered simply. "I will tell you something for history. Four or five years ago, they called me and took me to the office of Oscar's manager, who had a car [inaudible]. They wanted me to train him before Jesus Rivera and Emmanuel Steward but I had two jewels in my gym and their names were Rafael Marquez and Juan Manuel Marquez. They were fighting six-rounders and I always bet they were going to be world champions. They were training with me since they were 12 years old. I told [Oscar's people ] I was not going to abandon [Rafael and Juan Manuel]. If I could take those two fighters to training camp, I would accept, if not, no. They told me that was not possible, that I had to be trainer of Oscar De La Hoya exclusively, so I said no. Oscar's father and manager were surprised when I said no. It would have been a stupidity on my part to leave my job to go earn $200,000 or $300,000.
"Money is important but when journalists write a note of eight columns, they love their work and I love mine," continued Beristain. "You don't know what I feel when one of my boxers is amateur and wins the Golden Gloves, wins the district. I get him to the pros and he wins the world championship. I cannot describe the emotion. It's an indescribable emotion. There is no money in the world that can repay you that joy. Juan Manuel Marquez fights on November 12 and the idea doesn't exist in my head that I'm going to make a million dollars. My mind is occupied with the thought that we have to beat Manny Pacquiao again, even if I come back saying, 'You were robbed.'
Coming into the conversation, Lucy told us that we could ask anything. She explained that Nacho would prefer to discuss his philosophies on fighting, boxing itself, and the past. He did not want it to be a typical media day where we just ask about the fight at hand. But since we got there, naturally, it made sense to press forward in regard to the third fight between Manny Pacquiao and Juan Manuel Marquez. If you live on a planet with no boxing, I'll fill you in.
They first met at featherweight on May 8, 2004. Marquez was dropped three times in the first round, got up and fought his way back into the fight. The decision, much debated by fans of both and boxing in general ever since, was a draw.
They met again four years later at junior lightweight on March 15, 2008. This time, Marquez was dropped in the third round. That knockdown was the difference in the split decision loss to Pacquiao. In each fight, Marquez has appeared to outbox Pacquiao only to have the knockdowns keep him from victory.
Now, three years later, on November 12, the two men will face each other again. This time, they will fight at a catchweight of 144 pounds for Pacquiao's WBO welterweight title. At present, Marquez is the lineal lightweight champion.
Beristain started by telling us how negotiations for the fight began.
"[Top Rank promoter] Bob Arum went and sat in front of me in the Hall of Fame to have breakfast. He extended his hand to me and told me, 'The past is past. Now to work on this fight.' I wasn't too pleased but manners do not allow you to tell a man, ['No, I will not shake your hand]."
We asked why Pacquiao is so difficult for Marquez who, at 126 and 130, was able to stay with Pacquiao where fighters at 140 (Ricky Hatton) or at 147 and above (De La Hoya, Antonio Margarito, Joshua Clottey and Miguel Cotto) have either been stopped brutally or shutout by the Filipino fighter who started his own career at 106 pounds.
"I think it's the opposite," said Beristain. "Juan Manuel is very difficult for Manny because they were in 24 rounds in which [Manny] knocked [Juan Manuel] down in the two fights - three times in one - and he got up because the referee was in favor of [Manny]. Who was the champion? Double champion? That's why we don't want Joe Cortez. He told Juan Manuel, 'You are the champion but if you hit him and knock him down and he is down in the canvas and you punch him, you will irremediably lose your title.' And it was the opposite. In the third knockdown, when Juan was with his glove in the canvas, Pacquiao went and punched him and Cortez ignored it. He wasn't going to disqualify him."
Replays show Marquez clearly down and getting hit well past that time by Pacquiao. Still, it was what happened after that round that gives Beristain and Pacquiao fits.
"Juan got up, came to the corner with blood and hurt by the three knockdowns but he started to figure [Manny] out in the second round," said Beristain.
There are many who feel this third fight with Pacquiao will not be competitive as Marquez seems to have topped out at 135 pounds while Pacquiao has moved up past 140 and had much success. Marquez has already fought once at welterweight against Floyd Mayweather and was shutout over 12 rounds back in September of 2009. At the weight, he looked flat, old and slow. We asked Beristain if he feels that Top Rank, who waited four years for a rematch and now another three years for this rubber match, are getting Juan at the right time and at the wrong weight.
"Yes, they got a little bit of advantage but look, there is a detail that people have not understood," said Beristain, setting up his cigar holder as Marquez and a sugar shaker as Pacquiao. "Here is Pacquiao, who is a southpaw, and here is Juan Manuel Marquez, who is an orthodox. And here, this little space [between them], us trainers call it 'The Combat Zone.' If Juan Manuel dominates that combat zone, he will take Pacquiao to round 12 again. If Juan Manuel gets careless in technique, Pacquiao can knock him out because of his punching power, which is superior. But if we manage to make Juan understand that if he dominates that little space called combat zone, he will beat him. He will beat him again."
Beristain offered a third scenario.
"If [WBC President-for-Life Jose] Sulaiman and Bob Arum already came to an agreement to block [Marquez] because Pacquiao generates millions and millions of dollars..."
It should be noted that this fight is not for a WBC belt. However, WBC champ Victor Ortiz is fighting Floyd Mayweather Jr. later this month and perhaps Beristain was referring to that instance. As I stated before, I will share Beristain's thoughts on Sulaiman in a later installment.
While some define Pacquiao as a pound-for-pound entrant or a fighter who has won titles in eight weight classes, it would seem to Beristain that this rivalry is what defines both men. While other fighters have fallen to Pacquiao and Marquez, when they fight, it is always a classic encounter decided by the smallest of margins.
That kind of definition is what all fighters and trainers hope for. No one is ever great on his own. It takes a fighter of equal skill or ability to bring it out of you.
"I believe we have to be grateful to Pacquiao because he showed up on Juan's career and with those two fights they robbed from Juan, instead of setting him back, the Filipinos themselves welcome Juan like crazy. The second idol of Philippine boxing is called Juan Manuel Marquez.
"One day, when I was gonna train Oscar, I was very early at the airport in Mexico and about 15 Filipinos came," Beristain continued. "I believe they were in some convention. I was wearing a Juan Manuel Marquez jacket. Some people were laughing. I was seeing them laughing. When I turned back, the Filipinos were there with cameras taking photos of the Juan Manuel Marquez jacket. Then you know what the Filipinos themselves told me? The Filipinos told me Juan Manuel Marquez won."
"In many ways, Juan has defined Manny," one of us offered.
"[Marquez] dominated that little space, that which is super important for a southpaw and an orthodox fighter," said Beristain. "[Juan Manuel] walked and threw. Manny threw or attempted to throw a punch and Juan Manuel responded with three, walked there and wouldn't let him...in that fight, the last one, Juan Manuel had cut him seven times in the right eye.
"I define Pacquiao as a great athlete, a pleasant person, humble," said Beristain. "He is a great fighter. I have had big arguments with the people that say he uses anabolic [steroids]. I do not believe that."
Finally on the subject, we asked if the size of Pacquiao will be too much for Marquez at this stage of their careers. Beristain pointed out that while Manny has taken the weight well, the difference is that he has been facing bigger, slower fighters. In Marquez, he will be facing someone his own size.



"It's not his natural weight though. Pacquiao has never gone above 140," said Beristain. In truth, Pacquiao has weighed 145 twice, 144 twice and 142 once but it would appear he does not gain much weight on the fight nights in question. The point being, Manny is not your typical welterweight who walks around as a middleweight and then boils down to 147 only to gain ten or more pounds back the night of the fight. "What happens is that all the bigger fighters, heavier fighters, are afraid of him because of the speed. They see him and they cover themselves and do not throw at him. Juan Manuel Marquez counterpunches him.

"
And the conversation continued…
You can email Gabriel at

maxgmontoya@gmail.com

, follow him on Twitter at

www.twitter.com/gabriel_montoya

and catch him on each Monday's episode of "The Next Round" with Steve Kim. You can also tune in to hear him and co-host David Duenez live on the BlogTalk radio show

Leave-It-In-The-Ring.com

, Thursdays at 5-8 PM PST. Gabriel is a full member of the Boxing Writers Association of America.