A Conversation with Nacho Beristain: Part One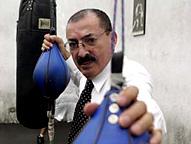 Nacho Beristain

Translated by Zaira Nazario

The Mexican state of Veracruz de Ignacio De La Llave is named for Ignacio De La Llave, a general in the Mexican army who fought against Santa Anna, Emperor Maximilian and on the Liberal government's side of the Reform War. He served as the Governor of Veracruz from 1861 to 1862 and died a year later from battle injuries. On December 23, some 79 years later, in the Veracruz town of Actopan, another Ignacio was born, this one to the Beristain family. While he never tried to take down an emperor, this Ignacio would one day become a general in his own right. His battlefield: the square ring. His soldiers: a seemingly endless list of champion boxers, both built by him and reclaimed warriors who fought for others, coming to him for guidance down the line. For his lifetime of efforts, the 68-year-old Beristain was inducted into the International Boxing Hall of Fame this year.
On August 19, 2011, I had the rare opportunity to not just speak to Ignacio "Nacho" Beristain (that can happen at any media day for his fighters) but to sit for two-and-a-half hours and ask him anything I could think of. I was in Mexicali to cover Alfredo Angulo, who was returning after a 13-month layoff and Beristain, who said he had not been in Mexicali in some 20 years but has been a friend of Angulo's for ten of them, was going to work the corner as a cut man.

The night before the fight, Lucy Haro, attorney for Perro Promotions and essentially, my host for the fight, arranged for me, Scott Hale of Halestormssports.com and photographer Ray Flores to travel to Mexicali with to meet with Nacho at Lucy's favorite café, Slow Down. It was here in a private room that we all sat back, watched Nacho drink his coffee and smoke his Salvadoran cigar and listened.
150 minutes are not enough to get all the answers I wanted. I'd have to spend a lifetime in the gym with him to get those. However, it is long enough for me to split what I've got into two parts. As I write, my translator, Zaira Nazario, is still working away at the transcription. This is just a beginning of a conversation.
"In my birthplace, there were boxing competitions of purely amateur boxing," Beristain said of his beginnings in boxing. "I started boxing there with some professional boxers. I was in school; I was like 11 or 12 years old. At school, one is constantly fighting. They saw me and invited me to train with them. After about a year of being trained there, I started competing in the Golden Gloves. I lost the finals to a cousin. Afterward, in another tournament I found, I beat him. He retired and I continued fighting in the amateurs. He retired and is now an agricultural engineer."
As a light flyweight, Beristain competed in the nationals held in Ciudad Juarez, finishing third. From there, he turned professional, fought "around 17" fights before his career ended, following a right eye injury.
While he could no longer compete in the sport, the die was cast for Beristain.

"Boxing poisoned my blood since I started training. I stayed to never ever quit boxing," he said.
Beristain spoke of his apprenticeship as a manager and as a trainer.
"I was with a legendary manager as a fighter," Beristain said. "I was with Arturo Hernandez, who was a legend in Mexican boxing, and with Adolfo Perez, who was known as "El Negro" Perez. He was the manager of "El Zurdo de Oro" (The Golden Southpaw), Vicente Saldivar, who was a two-time featherweight world champion of all sanctioning bodies. Between [Perez] and I, we managed him. That was 1964-68. Then he came back in 1969 and won the championship again. He fought in England, in the United States. He beat Jose Legra and Raul Rojas in California. He fought in Mexico and many parts of the world and won.
"
For Beristain, boxing was his Godsend, his gift. Many people go through life and choose what they want to be but it is the rare person who discovers who and what they were meant to be.
"

Look, boxing is the second love of my life. My kids are the first, my family. I think I will never separate from it because I like it more every time. The compromise now after the Hall of Fame is bigger for me. I have to do better. I know God has been very kind with me because He has given me 20 world champions and two female champions. Right now in the gym, Romanza, which is a combination of the names of the first two world champions I had. One is originally from [Mexicali], Gilberto Román, two-times super flyweight champion of the world. The other one is Daniel Zaragoza, who has been world champion four times."
At the mention of his champions, we asked who among his fighters was the best or his favorite. I ventured it was Ricardo Lopez, who defended his WBC strawweight belt a record 21 times while picking up the WBA and WBO versions along the way. For an encore, Lopez won the IBF light flyweight title and defended it twice to retire undefeated at 51-0-1 with 38 knockouts. Some fight fans might disagree and say current lightweight champion Juan Manuel Marquez is his finest fighter. Nacho would too.
"I believe Juan Manuel is from another generation and so is Ricardo," said Beristain when comparing them. "Ricardo has not been the best. The most technical has been Juan Manuel. Juan Manuel has been champion of the world three times in different weight classes. Gilberto Román, in his time, was a very technical boxer. I don't know if you saw him."
I have. Roman, like the most technical of Beristain fighters, stands almost at a fencer's angle the lead hand just a bit higher than the rear. From this position, the lead can shoot the jab, parry any incoming flak and is not above throwing a lead uppercut to devastating effect.
Beristain told of us of a gift he received from the IBHOF.
"

I was given an iPad as a gift, with 100 world championship fights of the fighters I have had and with classical music," said Beristain. "They hit me right here in the crown of the head because I was a little bit angry with the people of the Hall of Fame. I don't know how they investigated and found out that I like classical music and gave me this big gift."
Beristain left it a mystery as to why he was mad at the Hall of Fame.
I asked why Mexicans seem to go perfectly with boxing. It seems to be in our blood. While we look at the decline of our sport in the US, in Mexico, it still is very much part of the culture. The next night at Angulo's fight, which was clearly going to be of the tune-up variety, there were a reported 20,000-plus in attendance. I can't think of a current fighter from the States who can do those attendance numbers for a comeback fight.
"In Mexico, the kids play marbles and some of the abusive kids come and want to steal their marbles and they would beat each other up for the marbles," answered Beristain simply.
In other words, fighting just comes with the territory.
We asked about his style and where it comes from. Most Mexican boxers are known for their come-forward mentality, often shirking defense in favor of landing volume or, in some cases, one or two heavy shots. Beristain's fighters generally are known as technicians, employing a counterpunching style, utilizing sound fundamentals. However, Beristain stressed he does not try to fit his technical style into every boxer he trains. As fighters, strengths and nature sometimes fold into the equation.
"I am very inclined toward technical boxing," said Beristain, "but I have had fighters that it is useless to want to teach them how to box and I have had to refuse to develop a different boxing, like the bantamweight champion I had, Victor Rabanales. Juan Manuel Marquez, Gilberto Román, a lot of my fighters have good defense because I believe that the most important thing is boxing is defense, so my fighters do not come out so hurt."
One thing I notice in gyms I visit is a lack of attention to footwork. Everyone wants to punch; nobody wants to move. "The feet" are the starting point of Beristain's training.
"I think that in the gym, kids start by coordinating their feet movements and afterwards, their feet with their hands, so that there are less difficulties later on to teach them the punching routine," he explained. "We have less problems that way."
Beristain explained an important reason for needing solid offensive and defensive technique.
Having it is not just about surviving a fight or a career without injury. It is the pure necessity of winning in order to keep making money. This is a worldwide sport and to survive in it, you have to go on the road. In order to win- which doesn't always happen even when you clearly do, (see Chris John vs. Juan Manuel Marquez in John's home country of Indonesia)- one must have superior technique. Being a face-first brawler might be exciting but it generally leads to "opponent" status. While pure boxers don't always win to be sure, it stands to reason that the more weapons and defense you have at your disposal, your odds of success will be greater.
"Now, all my fighters, the 20 world champions I have had, all of them have gone "door-to-door" to fight," said Beristain. "We have won five titles in Japan, in Korea. We have to go out and fight wherever, "door-to-door", to earn more money. We have also won championship titles in the United States. I reached the conclusion that in order to have high-level boxing, exported boxing, leaving Mexico to look to earn dollars, or yens, British pounds sterling, one has to have a quality boxing."
Beristain explained why Mexican fighters tend to be known as brawlers who eschew defense in order to land heavy leather in volume.
"What happens is, look, I'll explain. In Mexico, there are fighters in the provinces that retire early from boxing and dedicate themselves to train boxers. They never got to master a given boxing technique, so they transmit a very poor boxing in terms of technique," said Beristain. "There are now many trainers that have been getting better. Before, you could count them in Mexico with the fingers of one hand. For example, there was a trainer in Yucatan who worried a lot about teaching the fighters how to box well: Miguel Canto, a very good fighter. His trainer at that time is now a great trainer but he is retired. Arturo Hernandez was a genius of boxing. He had "El Negro" Perez. They were masters of boxing with curiosity. They investigated; they observed and they taught a very high level boxing.
"But the trainers have been improving on that," Beristain added. "Boxing evolves in the entire world but in Mexico, trainers are worrying more to teach more technique."
The conversation was just beginning.
You can email Gabriel at

maxgmontoya@gmail.com

, follow him on Twitter at

www.twitter.com/gabriel_montoya

and catch him on each Monday's episode of "The Next Round" with Steve Kim. You can also tune in to hear him and co-host David Duenez live on the BlogTalk radio show

Leave-It-In-The-Ring.com

, Thursdays at 5-8 PM PST. Gabriel is a full member of the Boxing Writers Association of America.